Ads Can't Deny Climate Change Says Google and YouTube
1 min 21 sec read
October 10, 2021
Google and YouTube will cut off ad money and monetization for climate change deniers
who try to spread misinformation via ads, published content, and videos on YouTube.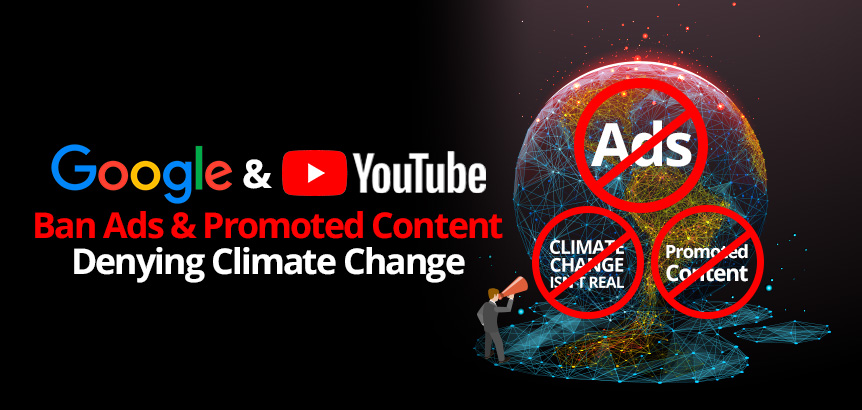 In addition, this is Google's move to make changes to its monetization and ad policies. They want to create a safe advertising space to protect their users from what they believe are unreliable claims, fake medical advice or anti-vaccine advocacy.
For years, Google's advertising partners and publishers reported a growing number of "fake news" being promoted and appearing as ads on their pages and videos. That's why Google and YouTube will prohibit anything that goes against scientific consensus starting October 7th.
Here's what Google is referring to:
"This includes content referring to climate change as a hoax or a scam, claims denying that long-term trends show the global climate is warming, and claims denying that greenhouse gas emissions or human activity contribute to climate change."
How will Google catch climate change deniers? The company will use humans to review and enforce their policy and automated tools to catch misinformation as well.
Google will still allow ads that focus on climate topics such as public debates on climate policy, research and more, but they'll be looking at the context of the content more scrutinously.
YouTube and Google are taking more proactive steps to curve false information. YouTube banned vaccine misinformation recently, and a week after, Google made the move to curb anti-climate change deniers. This move comes right after a search change made by Google that focuses on sustainability.
Recently,
Google launched new search features that help users shrink their carbon footprints
—allowing users to make more sustainable choices on Google Search, Maps, Travel, and Nest (Google's lineup of smart home products).
To further support reducing carbon emissions, Google pledged to operate its data centers on locally sourced carbon-free energy by 2030. And it warms our hearts, not our world, to see companies making changes and shifting to renewable energy sources for the future of those who inherit our Earth after us.