Advertising Alliances: Google and BigCommerce vs Microsoft and Shopify
1 min 51 sec read
October 25, 2021
What happens when you take the world's most popular search engine and create an alliance with one of the largest ecommerce platforms? You get two tech companies making a pact to impact the ecommerce industry and help online sellers.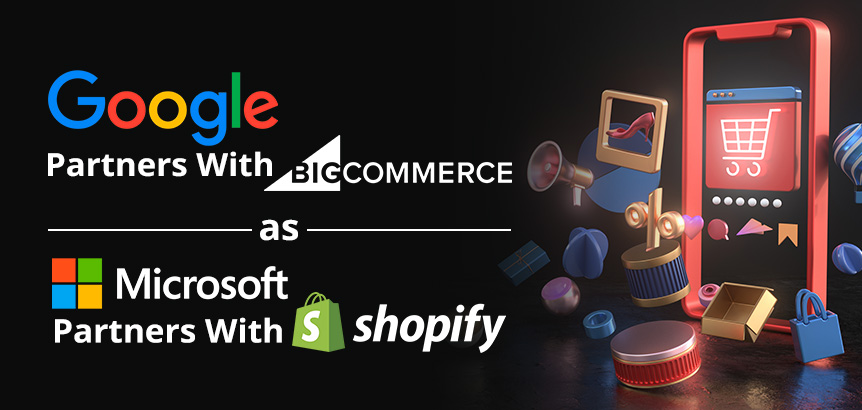 According to this Google article,
BigCommerce merchants can now reach new customers across Google ads
. This new alliance will allow sellers to list their products for free.
Over 60,000 BigCommerce sellers can now launch Google Ad campaigns for their listed products directly from their store and only pay when someone clicks on their ad.
They'll be able to sync their product catalog information to the Google Ad platform from their store to save time. Merchants can see how their ads perform and use Google's shopping features across Google Search, Shopping, Image Search, and YouTube to promote or list their products.
This integration with the Google Ad network applies to businesses of all sizes on the BigCommerce platform. Google stated that "by teaming up with partners like BigCommerce, we are expanding the opportunities for a global audience of merchants and shoppers."
Next up!
Microsoft and Shopify partner to help merchants grow their business
and have similar plans that resemble Google's and BigCommerce's partnership plans.
Shopify sellers will use the Microsoft Channel app to reach shoppers on the Microsoft Search Network and Audience Network to list products using free and paid listings.
It's very similar to what Google and BigCommerce did. Merchants can create ads, see how the ad performs in their dashboard, and automatically show all their products on Bing's Shopping tab.
Lastly, Microsoft plans on adding a quick checkout option on both product ads and listings, so shoppers are taken directly to Shopify's checkout page.
These partnerships between Google and BigCommerce and Shopify with Microsoft aim to make it easier to manage ad campaigns in one interface. But at the end of the day, both tech companies have a tight grip on the pay-to-play search advertising game.
Don't put all your digital marketing eggs in one basket. Switch it up by having the most amount of options in your digital marketing strategy.
Start doing everything digital via True Digital Marketing. Like that, you'll realize that paid search ads aren't the only option you should rely on.
That's why WebFindYou doesn't rely on third-party plugins or apps and provides all the necessary functionalities and tools to implement True Digital Marketing in a transparent, affordable, and simple way. All you have to do is follow the sequential, step-by-step guidance provided by the technology with supporting video tutorials.
You'll be maximizing your online presence, and therefore leads and sales, by doing everything digital as this allows each element of the complete and complex digital marketing puzzle to support and help maximize the other.
It's that easy.
Want to read this in Spanish?
Spanish Version >>