AI Chatbot News Roundup: Snapchat, Microsoft, Meta, Twitter and More!
2 min 12 sec read
March 02, 2023
There's a lot to unpack today as the AI race heats up between tech companies. By now, you've probably heard of Open AI's chatbot: ChatGPT.
So we'll cover the top stories surrounding that or other GPT-based technologies, starting with Snapchat!
They recently launched a new feature for Snapchat+ subscribers called
"My AI,"
which is like a watered-down version of ChatGPT.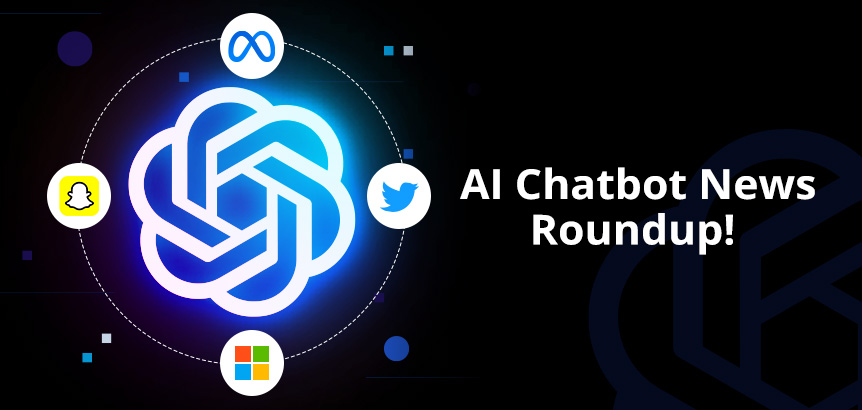 According to their blog post, My AI can recommend birthday gift ideas for your friends, plan hiking trips, suggest a dinner recipe, or write haikus about cheese for your cheese-obsessed pal.
Snapchat says, like all AI chatbots out there, "My AI is prone to hallucination and can be tricked into saying just about anything." So at least they're giving users a heads up that it's not perfect and advise you not to share any secrets or take its advice to heart.
Next up is Microsoft!
In February, they launched their ChatGPT feature for Bing and Edge browsers for desktops and have made major improvements since. Now, they are rolling out their version of ChatGPT to a few more platforms like Windows 11 and its taskbar, Office apps, Skype, and Bing for iOS and Android devices.
Currently, you have to sign up for a waitlist to get access. Still, Microsoft so far is getting ahead of companies using AI chat within their lineup of products.
But there's still a chance for others to outdo them.
For example,
Meta is introducing a new AI tool called LLaMA
, short for Large Language Model Meta AI.
Meta wants to use AI generative technology with text-like chats for apps like Messenger and WhatsApp and for creating visual filters for photos and videos on Instagram.
Meta's LLaMA will be used as an open-sourced research tool for the company and others to build chatbots and other products collaboratively.
It's Twitter's turn!
Elon Musk isn't sleeping on the GPT trend either, but his plans are questionable.
Elon wants to build a ChatGPT competitor
with fewer chat restrictions and integrate it into Twitter since he believes the current version is too 'woke.'
There isn't much to cover on Elon's version of ChatGPT, except he has reportedly approached several AI researchers, including Igor Babuschkin. He used to work on Google's DeepMind project focusing on AI innovations.
This whole Elon trying to build his own chatbot thing is kind of funny because Elon was one of the co-founders of OpenAI in 2015 and left in 2018. Speaking of OpenAI…
OpenAI recently
announced an API for ChatGPT and Whisper
, a text-to-speech technology.
Now, third-party developers can integrate ChatGPT into their apps and services. It will be cheaper than other large AI language models; you get 1,000 tokens at $0.002.
Whisper's API to translate speech or audio into text costs $0.006 per minute or is free if you're running it on your own hardware.
We're going to wrap this up, so here is our list of honorable mentions of companies using ChatGPT or GPT-based chatbot technology:
Google, Apple, Amazon, Instacart, Shopify, Quizlet, Brave (web browser), Alibaba, WeChat, Baidu, JD.com (Chinese retailer), and whoever else decides to join in on the AI race.
It's clear to say that AI is here to stay. And an exciting time to see it all unfold, so we'll keep you updated until next time.
Want to read this in Spanish?
Spanish Version >>