AI Text-to-Image Generator DALL-E Mini Goes Viral
1 min 26 sec read
June 21, 2022
AI technology needs to chill cause it's getting hard to keep up.
If you haven't heard, AI text-to-image generators are springing up left and right. You've got companies such as Midjourney, DeepAI, StarryAI, and the star of this article: DALL-E.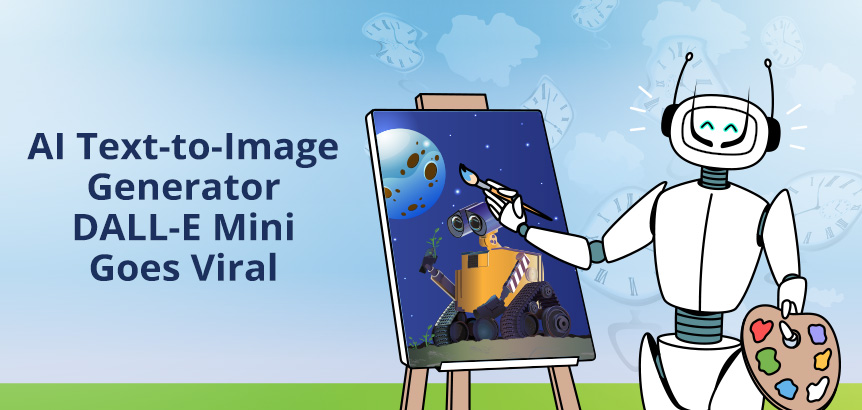 What these AI tools do is create "art" when you enter a creative text prompt. But what has the internet going wild is the
DALL-E mini image generator, and it's gone viral
for making some scary/bizarre memes of literally anything.
Before we get into why so many memes are popping up, here's why it's even possible.
DALL-E mini uses a lot of the software that's used in DALL-E 2, which is the latest text-to-image generator made by OpenAI's developers.
DALL-E 1 and 2 are private services, and there's a long waitlist to access them, but OpenAI opened the code to the public, and thus, DALL-E mini was born.
So here's the thing. DALL-E mini isn't as good as the original or latest DALL-E AI image generator. When you type in your prompt, it'll do its best to create your image idea.
For example, if you type in: "Salvador Dali drinking coffee with WALL-E at a cafe," you'll get something like this below.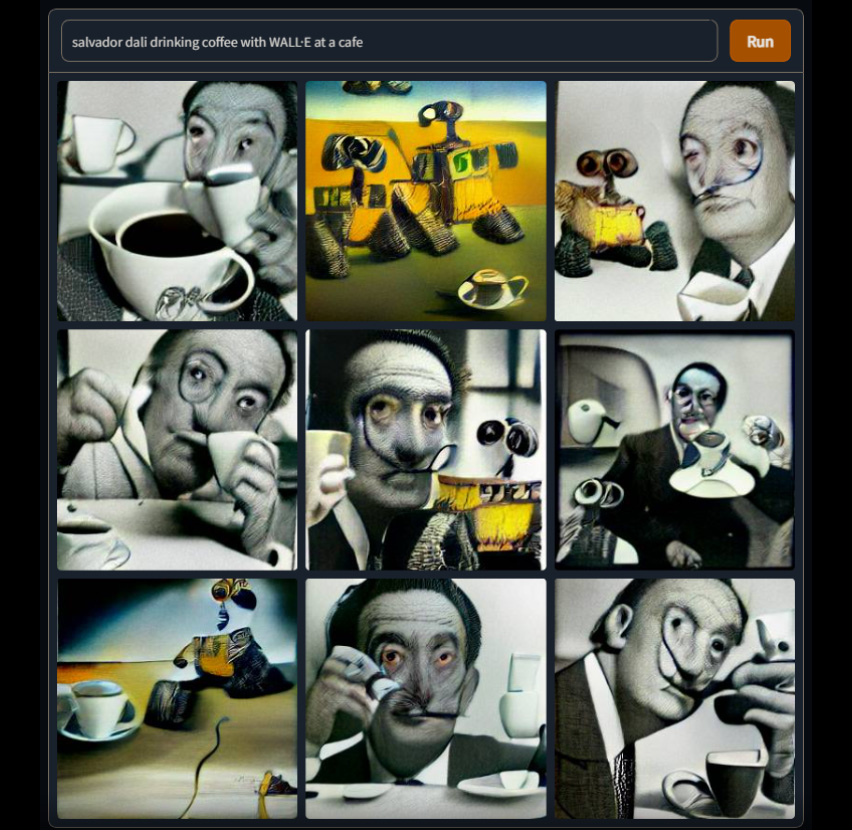 It's hit or miss, and you'll notice as you try it out yourself that it blurs or distorts people's faces or takes the image idea to some weird world.
It's impressive but not perfect, especially with faces.
Try it out by going to
DALL-E mini's website
to start making memes and just have fun with it.
By the way, DALL-E mini will be migrating to a different website with a new name, so might you as well bookmark
crayion.com
.
So the general question becomes, "Will AI-generated artwork replace designers and artists?" Probably not…. For now—just kidding.
Just search on YouTube competitions of graphic designers versus AI art generators, and you'll find that we're a long way from that happening. Still, the AI does give designers a run for their money.
So it's definitely something to keep our eyes on in this emerging industry because it's only getting better and better as time goes by.
Want to read this in Spanish?
Spanish Version >>