Amazon Launches Amp Which Allows You To Be a DJ and More!
1 min 45 sec read
March 09, 2022
BW-BW-BW-BW-BWAAAAAAAAAAAAHHHH!!!!!
That's the sound of DJ airhorns blasting as
Amazon launches Amp, a live radio app that lets you play as a "DJ" with music, call-ins,
and more.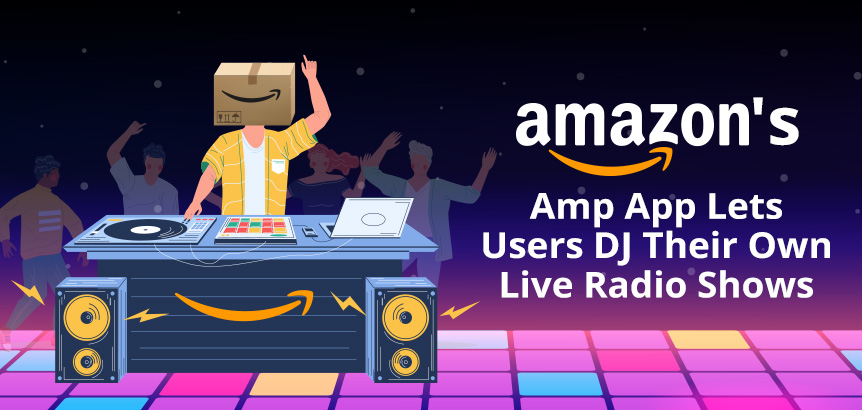 Amazon launched the app on March 8th, and it allows you to create music and host your own radio show. You can accept calls from fans and take song requests from the app's catalog of over ten million songs.
There are tons of genres to choose from. You've got your classic oldies all the way to the 80s, 90s, and today's music choices in your DJ arsenal.
The app is available in the US and is currently in beta. So it's not out nationwide, but it'll be rolled out soon.
Amazon is taking on the audio-social media company Clubhouse with this move, but their twist is focused on music and this sort of radio-like platform.
Here's what Amazon said about the app, "It's easy to share your voice and favorite songs with the world on Amp."
If you go to the app's description on the Apple App Store, it says. "Decide on a show title, create a playlist, and you're just seconds away from streaming your own radio show."
And it doesn't have to be just music.
Creators can host their own sportscasting show or talk about pop culture and anything else really.
Amazon is challenging Clubhouse, and so are many other companies as well. Live audio-social media features have been added to Twitter's Spaces, Facebook Live Audio Room, Spotify's Greenroom, and even Mark Cuban has backed up the Fireside audio-social media app.
Amazon's app gives anyone a platform to host and create their content. You'll be able to pre-plan, and schedule shows to alert your listeners on what's to come.
And if you're going the AM radio route, you can give access to callers to speak and take part in a conversation with you as if it were a real show.
Amazon will be providing an account for those who are interested in using Amp. You can download the app in the iOS App Store today (sorry Android users) and sign up for early access.
There are already a ton of musicians and celebrities ready to host their own shows.
You've got hip-hop artists like Nicky Minaj, Lil Yatchy, Big Boi and Pusha-T joining the app. Popular radio hosts Zach Sang, Kat Corbett, Christian James Hand, and Guy Raz are joining.
Music culture publication networks such as FADER are on the app and so many more big names in the industry.
So definitely don't sleep on this app and the opportunity to have your voice heard or your favorite jams.
Want to read this in Spanish?
Spanish Version >>