Amazon No Longer Accepting Visa Payments in the UK
1 min 49 sec read
January 19, 2022
Starting January 19, 2022,
Amazon will stop accepting Visa payments in the UK
, and the reason why is "a result of Visa's continued high costs of payments." That's what a spokesperson for Amazon.co.uk said, and it affects UK-issued Visa credit cards.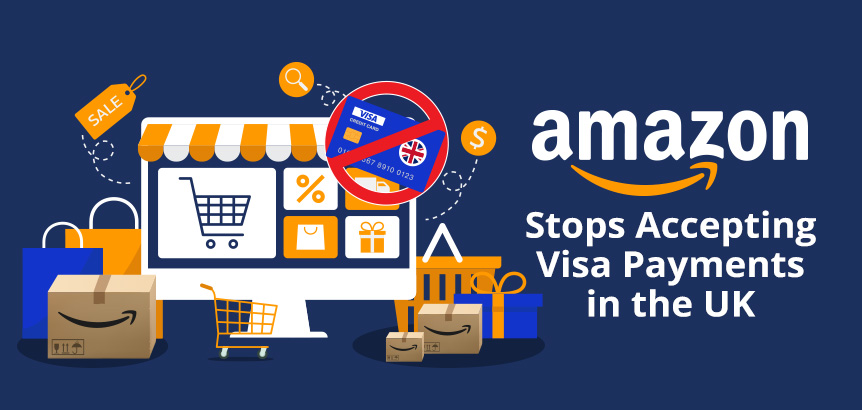 It seems like Amazon is beefing with Visa until they reach an agreement on lowering the fees they charge Amazon for every transaction. A Visa spokesperson said, "We are very disappointed that Amazon is threatening to restrict consumer choice in the future."
Meanwhile, who knows what this could do for merchants who sell on Amazon in the UK. If this conflict isn't resolved by the holidays, then merchant sales could be negatively impacted.
So how do the sellers feel about it? Well, they think it's a hypocritical move by Amazon.
Amazon's referral fees charge merchants around 3%–20%, and most sellers on their platform sell products, and those fees average to 15%. This could lead merchants down a path of accepting other forms of payment as an alternative.
Now, mind you, this is all happening in the UK.
In America, Visa co-branded with Amazon to create a Visa credit card that rewards Prime members with up to 5% back on Amazon and Whole Foods purchases. But guess what...
Amazon is
thinking of dropping them too
—right here in the States. This could potentially give consumers one less reason to shop on Amazon, which is huge for Visa credit card owners. Amazon would have to find another partner to co-brand and replace Visa.
But let's not blow this situation out of proportion in the UK. Amazon.co.uk will still take other methods of payment.
Mastercard and American Express credit cards are still accepted, and people in the UK can still use Eurocard and Visa
debit
cards. Hey, at least that's something, right?!
But why is this beef happening between the two companies?
One word: "Brexit."
Right after the UK left the European Union, credit card issuers no longer had to limit the fees they charge for transactions. This meant that they could raise them however they wanted. In December of 2021, Visa increased its fees from 0.3% to 1.5% for every online transaction for credit cards and 0.2% to 1.15% for debit transactions.
Card issuers have "interchange fees" that charge merchants' bank accounts every time people use their cards to buy something. This could have ecommerce platforms following in the footsteps of Amazon and dropping Visa, for example, and seeking other payment methods.
So if Amazon and Visa can't settle on an agreement, then the UK's government may have to intervene to help British companies make the business ecosystem competitive. Hopefully, their government can introduce a compromise on the fees card issuers charge.
Want to read this in Spanish?
Spanish Version >>