Apple Roundup: Monopolist Business Policies and USB-C Official by 2024
1 min 48 sec read
October 27, 2022
If you haven't sensed it already, Apple is making moves right now to make its "walled garden" even higher and taller than ever before.
And now, the
tech giants are waging war with Apple over its App Store guidelines
, aiming their crosshairs at the company's unfair monopolist business practices.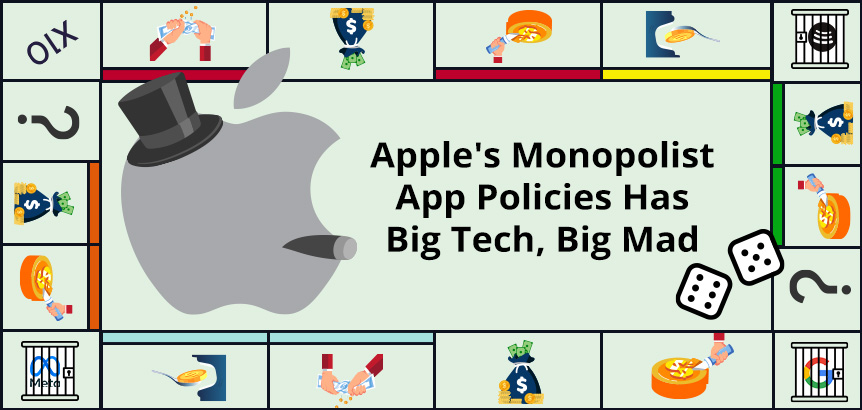 Google, Spotify, Meta, and a few other companies claim that Apple is trying to squeeze money out of them at their expense.
Apple is pushing to progressively make money from its App Store, iCloud services, Apple News, Apple TV+, Apple Pay, and Apple Music.
Speaking about jams, here's why Spotify isn't too happy with the company after it launched a new feature for its audiobooks.
Spotify alleges that "Apple wouldn't allow a button in its app for users to get an email with specific details on how to purchase a particular audiobook outside the app because doing so would be a violation of Apple's terms."
Apple is also preventing Spotify from adding a URL for users to buy an audiobook.
Going back to Apple's terms, they updated the guidelines in the App Store. They made it clear that promoted posts for apps would have to give a 30% cut to the company.
Harry Clarke, Associate General Counsel, and Spotify's top competition lawyer, clapped back against Apple and said:
"Apple is putting less imagination behind innovation while simultaneously doubling down on collecting tolls and stifling competition. They are leveraging every tool in the monopolist's playbook."
A spokesperson from Apple said that the "App Store was designed to be a great opportunity for developers." And when asked why the Spotify app was rejected, they said, "We provided them with clear guidance on how to resolve the issue and approved their app after they made changes that brought it into compliance."
Meta, who really could use the money right now, objects to what Apple is doing with their App Store. A representative stated that they continue to evolve their policies for their own benefit while undercutting everyone else. #Monopoly
The Q3 earnings for Meta and Google took a hit (more so for Meta as investors lose faith in the metaverse), and that's because of Apple's privacy moves.
The company is taking away business from Google and Meta, which loosens the tech giants' grip in the digital adverting space as time goes on.
Time will tell when our government steps in to even out the playing field among Big Tech.
In other news,
Apple will put USB-C connectors in iPhones to comply with EU rules
by 2024.
They aren't too happy about that, and an Apple exec said they have "no choice."
But neither do those who have to follow your anti-competitive guidelines Apple!
Want to read this in Spanish?
Spanish Version >>