Tech Companies Battle Misinformation During Russia's Invasion of Ukraine
1 min 39 sec read
March 08, 2022
During the pandemic's peak, tech companies had to tweak their algorithms to flag fake news about vaccines and the virus. As we move into a post-pandemic world, there's a new siege of tackling false news reports happening overseas.
Russia's invasion of Ukraine represents a new battle against misinformation
, and today's 3MDD tackles how tech companies are doing something about it.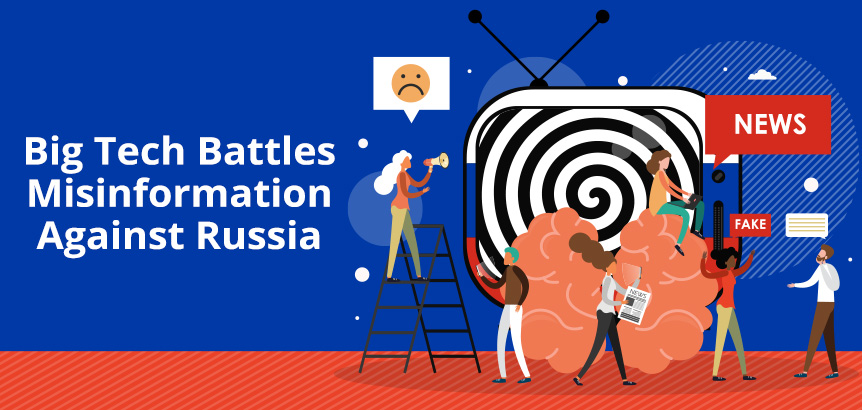 Social media, without a doubt, plays an integral role in how we communicate. And it can drive real-world actions. But we're not talking about dance trends here.
We're talking about harmful messaging that can spread false narratives, spread propaganda and fake news, which undermine real information. All of this has been happening in Russia as Putin steers the conflict as he sees fit with his pro-Russia narrative.
That's why you may have heard how retail and tech companies have been imposing their own sanctions against the country as Putin instills his own sanctions against them.
In Russia, Facebook and Twitter have been cut-off or restricted. This limits how Russian users are able to share their perspectives outside of the country or hear the
real
news about what's going on in the world.
Reddit, YouTube, and TikTok have banned Russian state news media companies like Russia Today or Sputnik (and hyperlinks to them), for example, in response. Meanwhile, many social media companies are looking to pause social media post uploads in Russia because of the country's new "fake news" law.
Google, YouTube, Twitter, Facebook, and Snapchat have banned ads from Russian-based news organizations. And to summarize, many western social media apps and platforms are taking steps to stop misinformation about this conflict before it grows into a larger mess.
What's the silver lining in all this?
It shows how social media companies can come together to fight the spread of misinformation. These companies are working together with third-party fact-checkers and legal/academic groups to ensure proactive steps are being taken to limit misleading messaging.
We hope that the Russia-Ukraine conflict can be resolved before it gets any worse. But, as these social media companies come together to fight misinformation, can they do the same moving forward when this conflict is behind us?
On an unrelated note regarding social media platforms, many consumer brands have stopped doing business in Russia.
Those companies are: McDonald's, Starbucks, Coca-Cola, Pepsi (to a certain degree), Toyota, Apple, Nike, Ikea, Visa, Mastercard, and so many more! Check out
the list of retailers halting operations in Russia
for more updated coverage.
Want to read this in Spanish?
Spanish Version >>