Consumers Spend As Much Time Viewing Social Media Content As Traditional TV
1 min 54 sec read
January 04, 2022
In the 50s and 60s, the Golden Age of Television was in full effect as millions gathered around the tube to tune in to current events and shows. Now, that's not so much the case.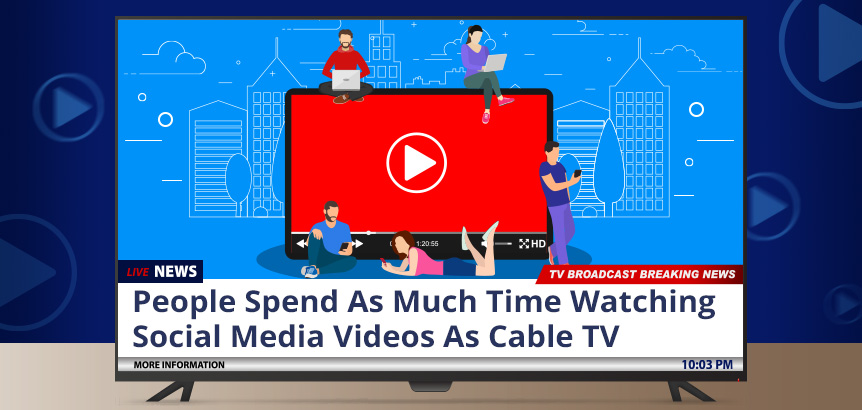 A new
report finds that social media videos now see as much time consumption as traditional TV
, and it's giving cable a run for its money.
Let's face it.
We love the tiny little computers in our pockets.
They let us do almost anything, and we lose our minds when we can't find our phones, only to realize it's in between the couch cushions. We could be glued to our phones for hours when it comes to entertainment.
So this study conducted by the Consumer Technology Association and YouGov surveyed over 2,000 respondents and broke their study down into two categories and sources: traditional studio media and user-generated content.
They also measured the weekly average percent in hours of how much content was consumed.
TikTok, YouTube, and other streaming platforms that showcase user-generated content have accounted for 39% of the weekly media hours consumed by Americans. Traditional media took the lead by 61% of weekly media consumption.
Let's break it down even more. Because traditional media also includes subscription-based streaming apps and other sources of media.
Out of the total 61% of traditional media content consumed, 20% went to TV streaming services like Netflix, Hulu, etc. Regular cable TV made up 18%, music streaming platforms accounted for 15%, and podcast streaming was 7%.
Out of the total 39% of user-generated content consumed on social media, 16% was attributed to users watching entertaining videos. And 9% was for gaming content, 6% for music and podcast streaming, and 4% for users who listened to user-created music content live. The last 4% of people watched others play video games live.
Here's another set of key takeaways from the study.
Around 7% of U.S. consumers aged 13 and older (20 million people) earn income in some way online by posting user-generated content. Some of them are either doing this full-time or part-time, but the full-timers made an average of $768 per month.
About 28% of content creators earned their money by selling merch or having fan experiences—whatever that means—and 27% is from content subscriptions.
Some earned income by serving up their content "à la carte" style, which made up 27% of creators, and 16% earned it through tips. Lastly, 2% of creators earned money from other sources.
On average, content creators monetized two to three popular categories. Genres such as gaming, audio, and music had fewer creators developing that type of content compared to others; however, a large proportion of those few monetize their work.
Some food for thought, it's possible that social media content of all types and across all platforms may steal more eyeballs than your living room TV in the future.
Want to read this in Spanish?
Spanish Version >>