December Roundup of Instagram's New Features
2 min 36 sec read
December 19, 2021
As the year comes to an end and Christmas Day approaches, it's time we finish the month of December with a final roundup of new Instagram features.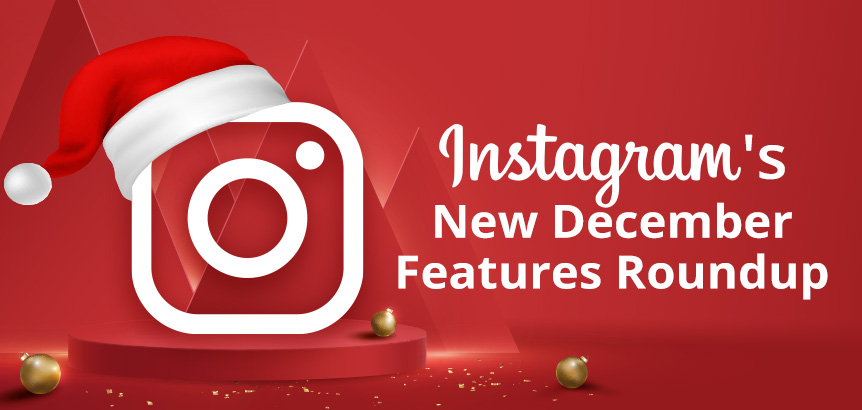 So let's dive into it in under 3 minutes!
To start off strong,
Instagram is adding a new option to embed user profiles on 3rd-party websites
.
This new option will allow you to increase your Instagram presence outside of the app. You'll be able to place a mini version of your profile on 3rd-party sites.
Not only could your brand showcase your Instagram content on someone else's website, but they could link theirs onto yours. Here's how this feature would come in handy.
Let's say you work with influencers who review your products because you manage a retail ecommerce store. With this option, you could create a custom profile to show all your product reviews, add product/website images, and embed that curated profile where ever you please.
We'll see how this new option plays out next year, so let's move on to
Instagram to allow longer videos up to 60 seconds on Stories
.
There's a lot of competition among social networks when it comes to short-form video content.
So with this new feature, your Stories that are longer than 60 seconds won't automatically be broken up into 15 seconds as they were before. Instagram is working on revamping its Stories interface, making it easier to mention other accounts or add a location to a Story.
In other news,
Instagram added an option to reply to Reels, providing another way to tap into short-form video
content and boost engagement on the app.
The feature went live officially on December 10, and users can now post comments with Reels. Basically, if you create a Reel, users can reply to you with a Reel of their own, and you can respond with a video reply using a sticker and keep the conversation going like that.
Now, TikTok rolled out this feature last year in June of 2020.
All that Instagram did with this Reel's feature was add new color options to the sticker, but that's it.
Speaking of stickers, we gave away the color option, but
Instagram added the ability to customize the text for link stickers
earlier this month.
You've probably been enjoying this feature already, but here's how it works if it's new to you.
When you add a link to a sticker, you'll have the option to add text, which can be helpful to your audience. You can customize link text for whatever promotion or campaign you're running, and it gives you a way to personalize it. You can highlight business names with it too.
It's Instagram's version of Bitly basically, but now you can add color to a custom link text.
Next up is
Instagram's chronological feed is coming soon but may not work how you'd expect
.
A lot of pressure from the government has been put on Meta, especially because of Instagram's negative effect on teens and their mental health.
So, Instagram is working on a way to sort the type of content that appears on your feed, but here's the thing. The chronological feed may mirror Facebook's feed sorting option.
On Facebook, you can choose whom you follow as well as Pages in order of what's new chronologically, but it's not a default feature. So on Instagram, you won't be able to set a default chronological view, but you'll have three options.
Number one is the "Home" option, and it's what you currently see, and it's the algorithmic-based feed on what you interact with. Second is the option to choose a feed based on your "Following," and the third is to show profiles that you have as your "Favorites."
The option to customize your feed (sort of) is set to launch next year.
And that's a wrap for Instagram's feature roundup for December.
See ya next time in 2022!
Want to read this in Spanish?
Spanish Version >>