Discover SEO Gold With Social Media
2 min 06 sec read
September 16, 2021
We'll be flying through some ways you
can use social media for keyword research
to dig up some overall SEO gold or even help with your PPC ad targeting!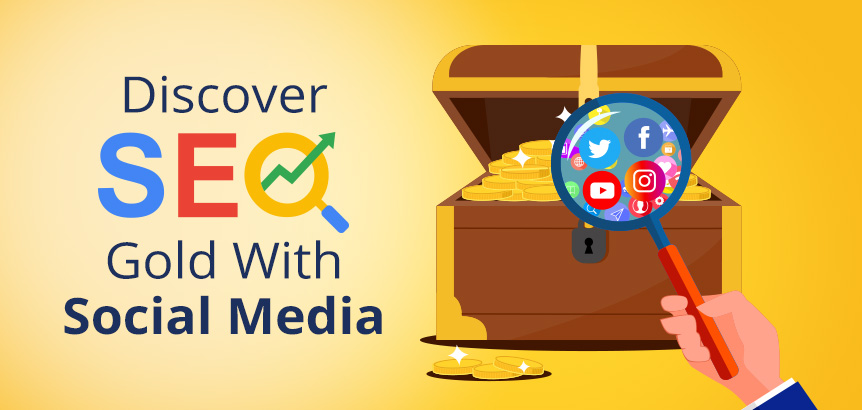 There's a lot of value in researching on all the platforms where people spend their time. Users spend an average of
3 hours per day on social media
. It's not the first place SEOers would think to look, but those that do have found troves of valuable data.
So let's show you where to find SEO gold in under 3 minutes, and be on the lookout for our upcoming blog covering the topic in-depth.
Facebook:
If you're running paid Facebook ads, then you should be using ad targeting options to narrow down to your ideal target audience.
Then you can use Facebook Insights to have a deeper look at the analytics for your targeted audiences and break them down based on: locations, ages, genders, interests, relationship statuses, languages, education levels, and occupations — and Facebook probably knows what they had for lunch too.
Follow relevant Facebook groups to get topic and keyword ideas if you see something of value.
Instagram:
Who said hashtags aren't useful? Cause they're dead wrong. Choose your keyword adventure by searching relevant terms to see all the related hashtags that come up, or use Instagram's autocomplete search feature. You can get great keyword and topic ideas, and generate of the moment content.
Twitter:
Like government cheese, the shelf life of trending tweets can last weeks. The explore section of Twitter helps you find trending keywords and topic ideas that people in your industry are talking about. You'll even find some awesome key terms to add to your keyword strategy.
YouTube:
Besides watching funny viral cat videos, YouTube's autocomplete search feature can help you find relevant terms and topic ideas in the dropdown list. Keep playing around with it and filter out the unnecessary ones.
LinkedIn:
B2B marketers targeting influencers or key decision-makers can use LinkedIn to see what they're saying and know what's relevant to their industry.
Once you've done your homework on your target audience, you can search for key terms, find select people, and review all their activities in the last 3 months. Pull hashtags, long-tail keywords, and get content ideas from the groups they interact in.
Pinterest:
Need even more topic ideas? Besides being useful for home decor and new recipe ideas, Pinterest can help inspire you with blog post ideas when you search on terms related to your industry and audience.
Social Listening:
Across all socials and even forums like Quora and Reddit are places where you can get to know your audience or businesses of interest even better. You can study what people post to learn about them, see where they're most engaged, and discover treasure troves of topic ideas and key terms.
Like salt and pepper, using social media for keyword research can help people find your SEO-optimized website, read your next blog, and it helps create ideas for engaging content. Let us know if these tips helped and went well together, just like copying and pasting do, as you develop out your keyword strategy.