Elon Musk Bought Nearly 10% of Twitter and Joined Its Board of Directors
1 min 16 sec read
April 05, 2022
UPDATE
:
Elon Musk has decided to not join Twitter's board of directors
on April 11th, 2022.
Elon Musk is in the spotlight, trending once again on Twitter.
Not for starting his own social media company like he said he would, but for being
appointed to Twitter's board of directors
after buying nearly 10% of the company's stock.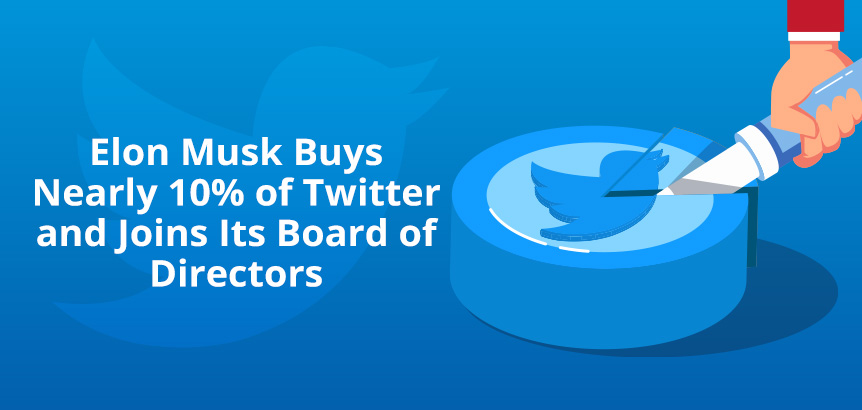 That's right!
Twitter filed an agreement with the US Securities and Exchange Commission (SEC) to appoint Elon as one of the board of directors.
Until 2024, he will serve as a Class II director, which protects Twitter from any anti-takeover measures during his position.
Twitter's CEO, Parag Agrawal, and Elon shared Tweets confirming the news with the world. Agrawal believes that Elon will bring value to their board, and Elon says he's looking forward to making improvements in the next few months.
Before becoming Twitter's biggest shareholder, Elon made a statement about free speech being essential to a functioning democracy on the social media platform. He started a poll asking people (yes or no) if they believe that Twitter adheres to the principles of free speech.
But his questioning of free speech is really his beef with the SEC over his Tweets. Elon has such an influence on the world that one Tweet could manipulate the stock market within minutes.
In fact, the SEC had once sued Elon for Tweeting that he had the funding to make Tesla a private company. In the end, a judge ordered an attorney to approve his Tweets.
Now that Elon has a say in the company, he created a poll surveying people whether or not Twitter should have an edit button for Tweets after they're posted.
It's been a long-awaited feature on the platform, so we'll see how Elon's influence will shape Twitter in terms of improvements.
UPDATE:
On Sept. 1st, 2022, Twitter confirmed that they are indeed working on an "Edit" button.
Want to read this in Spanish?
Spanish Version >>