Elon Clashes With Apple
1 min 06 sec read
November 30, 2022
On another dramatic episode of Twitter, advertisers and employees are fleeing in droves, and now,
Elon Musk is dragging Apple into the culture wars
.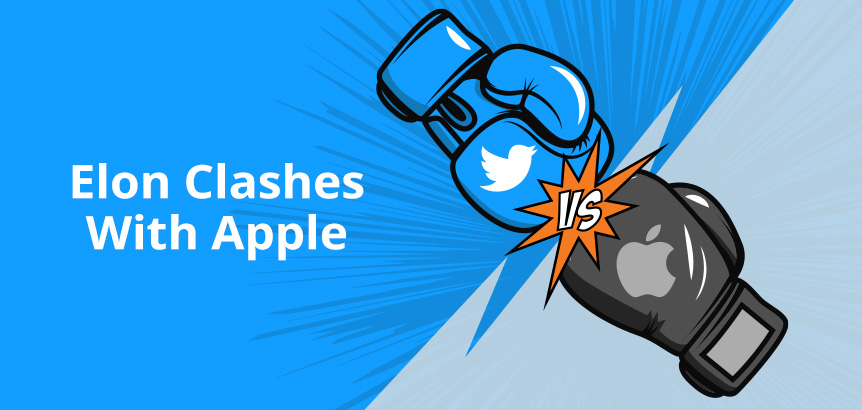 In October, we covered
Apple's monopolist business practices over its app store
, which is what Elon is mostly heated about.
Elon is also mad that Apple stopped marketing on the Twitter app, and we all know he could use the money right about now.
Meanwhile, Apple has allegedly threatened to withhold the Twitter app from its app store after Elon relaxed Twitter's policies on content moderation.
Feeling the pressure coming down from Apple, Elon is joining other tech execs claiming how unfair Apple's business practices are. He says the company's fees are a "hidden 30 percent tax on the internet" and would rather "go to war" than pay.
And part of his go-to-war strategy is rallying up the Republican troops of politicians and pundits to feel suddenly
very concerned
about Apple's business practices.
Elon is doing whatever he can to kill the "Apple App Tax," as he calls it.
He postponed the relaunch of Twitter Blue and wants to make a version that doesn't allow people to signup through Apple's App Store to evade the company's fees; Elon even said he'd consider launching his own phone too. Does Apple care? Not really.
Elon musk aside, Apple's dominance in the market has been a concern for lawmakers in the country regardless. Tech companies, politicians, and app developers aren't thrilled about Apple's stronghold in the market.
And while Apple may not kill its tax, the 2024 elections and the verdict between
Epic v. Apple
could potentially loosen the company's grip over the tech industry.
Want to read this in Spanish?
Spanish Version >>