Will He, Won't He? Elon Musk Potential Twitter Takeover
1 min 20 sec read
April 14, 2022
Last week, he was set to join Twitter's board.
Then, he said he wouldn't join just days earlier, and now,
Elon Musk has launched a hostile takeover bid to buy Twitter
by offering the company $43 billion for it.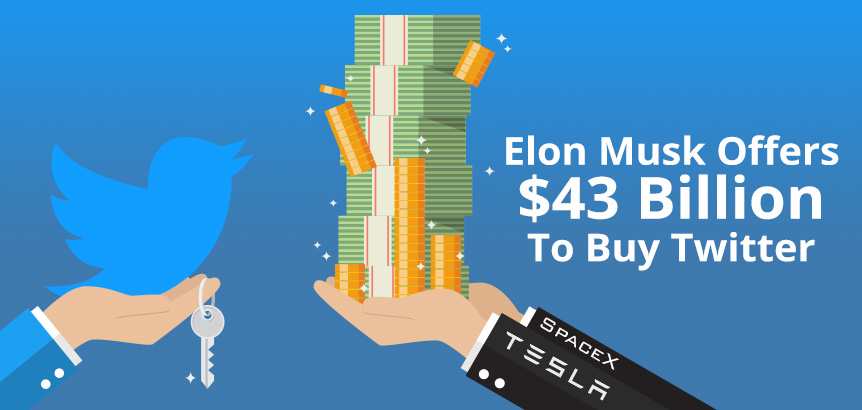 Keeping up with Elon is harder than keeping up with The Kardashians.
The man has 81 million followers, and his Tweets are powerful enough to stir controversy and stock prices.
On Thursday, April 14th, Elon filed a proposal with the US Securities and Exchange Commission to potentially buy Twitter for
$54.20 a share
. It was his final offer, apparently.
Elon said if his bid were rejected, he would "reconsider his position as a shareholder." Pretty passive-aggressive if you ask us.
In a letter to Twitter's Chairman, Bret Taylor, Tesla's CEO, said that he invested in Twitter because he believes it has the potential to be
the platform
for free speech.
But after making his investment, Elon said this:
"However, since making my investment, I now realize the company will neither thrive nor serve this societal imperative in its current form. Twitter needs to be transformed as a private company."
That was his statement today, which is a lot nicer than when he said, "Is Twitter dying?" this past weekend. So will Twitter take the bid?
Twitter said that they received his "unsolicited bid" on Thursday (April 7th).
They didn't sign it yet. However, the Twitter Board of Directors said they would review his proposal "carefully."
Elon's goal is to make Twitter a private company. And analysts are split if Twitter should cave in and let him own it. One analyst said Twitter is too big to be a privately held company. And another said he's rich enough to do it.
We'll have to break out the popcorn as we watch these turn of events unfold to see how Twitter's future and its relationship with Elon turn out.
You never know. If Elon doesn't get his way, he might start his own social network like he said he would.
Want to read this in Spanish?
Spanish Version >>