Facebook Marketplace Lets You Ship to Non-Locals and More!
1 min 10 sec read
October 17, 2021
Facebook Marketplace celebrates its 5th anniversary with more ways to buy and sell
and has added more features for shoppers and sellers. Here's what's trending and coming to the Craigslist-like social media merchant center: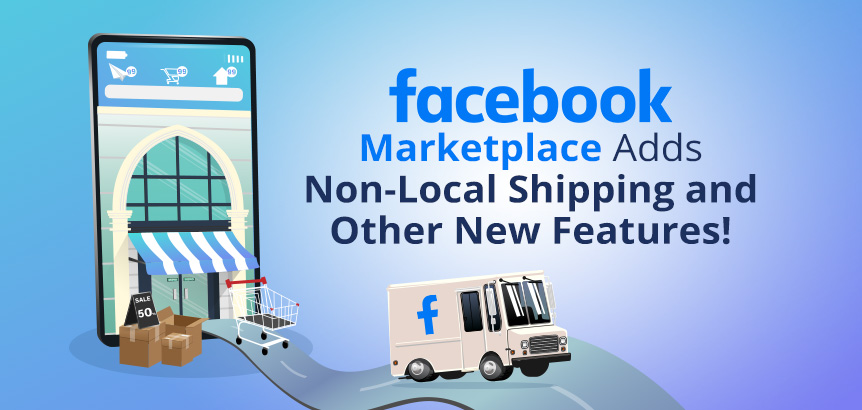 Expanded Shipping Areas:
Whether near or far, buying or selling, Facebook Marketplace has added a new shipping feature for sellers to reach non-locals. It'll be available in "Buy and Sell" Facebook groups in the U.S. and the coming weeks for the U.K.
Extended shipping allows sellers to have the ability to reach more buyers and gives shoppers more product choices. Shoppers can make purchases using Facebook Pay with the ability to add Purchase Protection for eligible items.
What's Trending on Marketplace:
In September, top U.S. marketplace searches were for household appliances and furniture, vehicles, stuff for babies and kids, but also sustainable clothing. Facebook Marketplace saw a 60% increase in secondhand apparel during the summer, resulting in 20% of sales made on the platform.
Responsible Buying and Selling:
Facebook has added two more features to make meeting up for Marketplace transactions less sketchy. Buyers can create a meetup plan, which includes the location, time and date, and the ability to share with friends via Messenger where they're going to make the exchange with a seller.
Sellers can set their preferences too. They can arrange public meetups, dropoffs at the door, or pickups to reduce physical handoffs and transactions. On top of that, customers have the option to purchase items via Facebook Pay and have them delivered to their door, or whatever exchange arrangement was set up between both parties.
The takeaway here if you're in the ecommerce space is the extended shipping option. The Facebook Marketplace is a new acquisition channel you can use to leverage more sales.