Google Adds Continuous Search Results for Mobile Users
1 min 47 sec read
October 16, 2021
Here's a classic SEO joke: "The best place to hide a dead body is on page 2 of Google's search results." Well, after this new Google Search update on mobile that will change to page 5.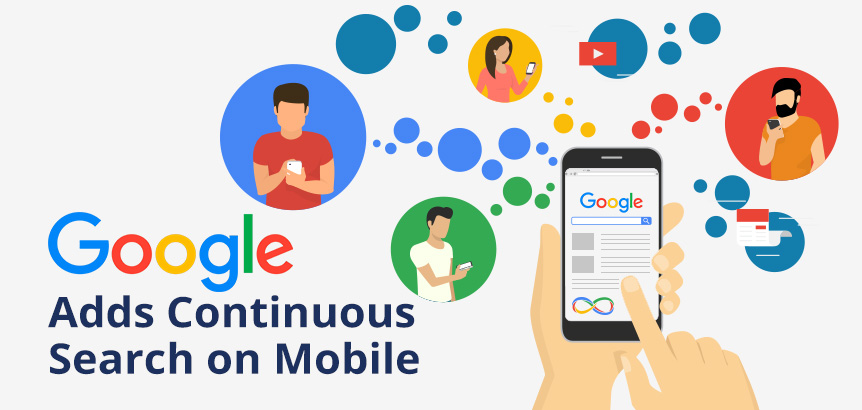 Starting this past Oct. 14th,
continuous scrolling comes to Google Search on mobile devices.
It will gradually roll out over the following 2 weeks for U.S. English mobile users only, so here's how it works.
When someone searches on their mobile device and scrolls down, it'll keep loading search results pages until page 4. Users will then click a "See more" button at the bottom of the page to continue another set of scrollable search results.
Why did Google make the change?
Because they're Google and they can—just kidding. They redesigned how mobile search results appeared at the start of 2021 to make them more scannable, graphical, interactive, etc. So adding to their redesign, Google is making mobile search smoother for users because they've found that people click up to 4 pages of results while searching for extra info.
In Google's blog, they state that if people were to do a general search like, "What can I do with pumpkins?" then before they start thinking about it, they could look at results that:
"...show you tons of options you hadn't considered, like no-carve pumpkin decor ideas for Halloween, pumpkin seed recipes that make your pumpkin worth carving and more ideas for how to make the most out of your gourd."
What about Google ads? Let's
learn more about the latest change to Google's mobile search results
because, in their help section, they answered a few questions about how ads would appear.
Google ads on mobile will be shown at the top and bottom of mobile search results, but they'll be redistributed across each page. So ads can show on pages 2, 3, 4 and you get the idea. Mobile search ads can be displayed for more than one query, and there are no changes in how Shopping and Local ads appear.
Google stated in their support page that campaigns for "Search, Shopping, and Local campaigns that serve ads on US-English queries may see more mobile impressions, which could result in lower CTR." They stated that metrics like clicks, conversion, average CPC and CPA could "remain flat."
In terms of ad performance, Google forecasted that text ads for Search campaigns might do better at the top of each search results page than at the bottom. They advised segmenting your data by "Top vs. Other" and adjusting your campaigns accordingly to your business objectives.
Last but not least, this update will roll out on an international level in multiple languages in 2022.