Google Adds Experience to Its E-A-T Concept
2 min 02 sec read
December 16, 2022
We hope you have an appetite for knowledge today!
Because recently, Google added an "E" to its
E-A-T concept and announced some major updates to its Quality Rater Guidelines
(QRG) document for search.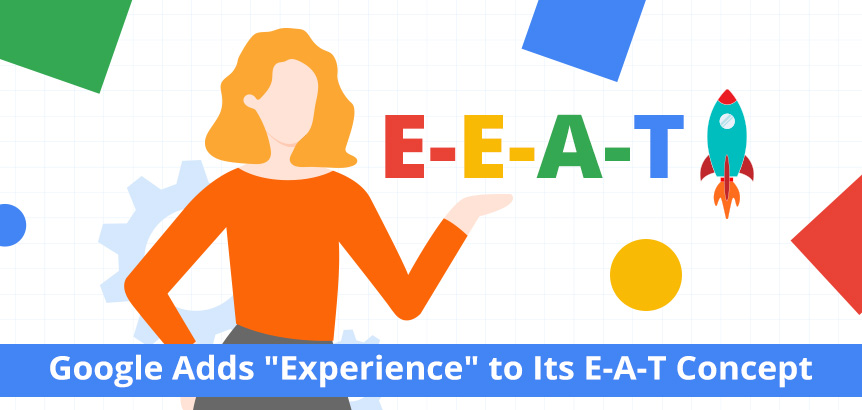 Here's what E-E-A-T now stands for, if you didn't know: Experience, Expertise, Authoritativeness, and Trustworthiness.
Google has been evaluating content and the reputation of websites based on this idea for a while. Now that they've added "experience," the search engine giant wants you to evaluate your content through the lens of someone demonstrating first-hand or life experience about the topic at hand.
For example, would you trust a product review from someone who has personally used it or someone who gave their "review" but never used the product?
According to Google, they say that "trust" is still the most important aspect of its E-E-A-T concept.
Trustworthiness helps search raters know if a website or page is "accurate, honest, safe, and reliable."
As vague as that sounds, here's an example of what they mean by using an ecommerce site for example.
They're looking for real reviews (not those trying to push a product/service), secure transactions, good customer service, and does the website demonstrate trustworthiness outside of its own website.
The updated QRG document that helps search evaluators (humans, not bots) determine whether a website is of quality or not has also been updated. They've added 11 new pages of information and totally restructured their guidelines with some new sections as well.
Here's what's changed about the QRG.
Google added new guidance to help search quality raters identify who owns/operates a website and the content that's been created.
Page 15 of the QRG says, "Start by finding out who is responsible for the website and who created the content on the page... Then, look for information about the website and/or content creators on the website itself."
What does that mean for you? It means that it's important for Google to know who is responsible for the information that exists on a website. Even if that ownership isn't clearly stated on the site, it's still good for Google to know who's in control of it.
So it's better for you to make it clear who owns the website and who's creating content for it too.
Another thing to take note of is that Google cares about the reputation of those who may be contributing content to your site as well.
They've added guidelines to help search quality raters know where to find biographical information and online sources about the content creator. That way, they'll be able to know whether or not this person is credible.
The updated QRG document is over 170 pages, so if you're an SEO or you make content, it's definitely something you should read.
Following Google's guidelines and reading between the lines of what they're saying will help you stay on the right path in your content marketing efforts.
And by following their document and their E-E-A-T concept, you'll be better prepared whenever Google decides to update its algorithms that focus on "helpful" and quality content.
Want to read this in Spanish?
Spanish Version >>