Google Could Be Gambling With Your CTRs With Its Page Meta Title Update
2 min 18 sec read
September 01, 2021
If you create web pages or write blogs with SEO in mind, then stick around. Google confirmed that they do
change titles for search result listings
on August 24th and launched an update specifically about them. Some SEOers in the community didn't even bat an eyelid when they heard the news.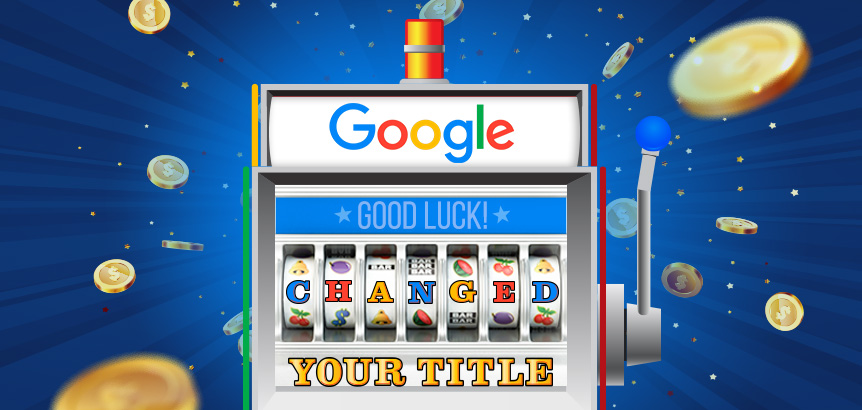 For almost a decade, Google has documented how they
choose title tags for search results
. If Google chooses to not use your page's meta title and description, then Google will take bits of info about your website and other HTML elements to create their own version that "they think" will better serve the user on the SERPs.
Lately, they've been changing titles on search listings at a larger scale. The cause may be related to the page experience update, but the SEO community is a little heated right now. Since August 16th, they noticed a drop in click-through rates for articles that had modified titles on the search result listings.
Here's one example of how
Google's title rewrite dropped Wordstream's CTR by up to 37% and what they did to fix it
. The article said that their page called "Free Keyword Research Tool" had been changed to "Learn More About The FREE Keyword Tool" on the search results list.
Do you know what happened? It changed the search intent completely. People were looking for a free tool, and they didn't want to learn about one. So you can see why people would be a little ticked off. Wordstream fixed it by changing how their title appeared on search listings to "Try Wordstream's FREE Keyword Tool."
Here's how the title change for the SERPs went down with Google. SEOers investigated what was going on, and they noticed that Google was pulling titles from the header tags. But it was much more than that too.
Brody Clark
noticed that Google was also using text from internal links, link anchors, alt tags, or titles completely made up by Google 🤯.
When trying to figure out the source of your websites title in Google's SERPs: https://t.co/hl3cS3dc5U pic.twitter.com/SYs6iVCd1R

— Brodie Clark (@brodieseo) August 19, 2021
So people are calling this the "page title update." And boom! Google confirmed on August 24th
how titles are being generated
in the SERPs with this "no big deal" of an update. Google feels that title tags don't always describe the page well on their search result listings.
They think titles are either too long, stuffed with keywords, or they have repetitive "boilerplate" language like home pages being called "Home," or it repeats the site's name.
Google decided to not show titles on their SERPs that may have matched what the searcher typed into the search bar.
That change is kind of a big deal. Google said, "... we think our new system is producing titles that work better for documents overall, to describe what they are about, regardless of the particular query."
So here's what matters to Google now when it comes to how they are displayed in their search result listings. Titles are still important, but headers are equally as important, if not more. Make sure the title supports the body of the content accurately, and you should be good. Google said they'll keep making updates on this as we will with you.
Google did provide a helpful tool to see if your web page's titles have changed on their SERPs. Check out this
SERP CTR Evolution Analyzer
to find out.
Until next time.