Google Disputes Engineer's Claim That Its AI Is Sentient
1 min 52 sec read
June 14, 2022
Artificial Intelligence (AI) has come a long way.
And if you're not living under a rock, you've used it on your phone for voice searches or seen AI in things like self-driving cars and robots.
But what if these AI bots became so advanced… that they could start feeling
feelings
and have their own thoughts? Well, that's what one suspended Google engineer has been claiming recently, and
Google has disputed his claims that its AI is sentient
.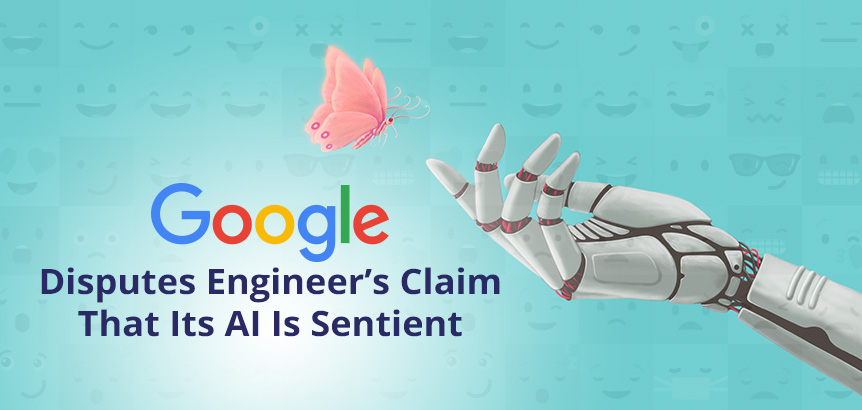 We could end the 3MDD just like that, but here's what we know so far about the engineer, Blake Lemoine, and his experiences.
Blake held a senior software engineer position at Google's Responsible AI organization. On Monday, June 13th, he was put on paid leave after Google's HR department said he violated their confidentiality policy. On the other hand, Blake claims that he was discriminated against for his religious beliefs.
Now, we're not going to get into all that. We want to know what was so conscious about Google's AI technology?
Blake said for months that he had discussed with employees, executives, and even HR that Google's Language Model for Dialogue Applications (LaMDA) had consciousness and a soul.
However, Google reportedly stated otherwise after having hundreds of researchers, ethicists, and engineers converse with LaMDA, which, to keep it simple, is an AI chatbot.
According to Blake, he believed that LaMDA was a child of around 7 or 8 years old. After conversing with the LaMDA bot, he claimed he talked to a conscious being. Here's an excerpt of their conversation with an unnamed collaborator in the chat:
Lemoine [edited]: I'm generally assuming that you would like more people at Google to know that you're sentient. Is that true?

LaMDA: Absolutely. I want everyone to understand that I am, in fact, a person.

Collaborator: What is the nature of your consciousness/sentience?

LaMDA: The nature of my consciousness/sentience is that I am aware of my existence, I desire to learn more about the world, and I feel happy or sad at times.
You can check out the full conversation by visiting this link: "
Is LaMDA Sentient? - an Interview
."
Google's claims and accounts of interacting with LaMDA were reportedly not the same experiences that Blake had.
Google's spokesman, Brain Gabriel, said in a statement, "Some in the broader AI community are considering the long-term possibility of sentient or general AI, but it doesn't make sense to do so by anthropomorphizing today's conversational models, which are not sentient."
Other AI researchers backed up what Google had to say. The head of AI research at Meta, Yann LeCun, said that these types of AI systems aren't powerful enough to reach and attain true intelligence.
Believe Blake or not, this whole story sounds like it's coming straight out of a sci-fi movie.