Google Docs Adds AI-Generated Summaries, Collaborative Email Templates, and More!
1 min 40 sec read
February 16, 2022
Last year, Google made an announcement at I/O 2021 to rollout an integrated and interactive Google Workspace experience. And today, they finally delivered some new features for us.
Google Docs now has AI-Generated text summary capabilities, collaborative email templates,
and more features that we'll be going over for you to check out.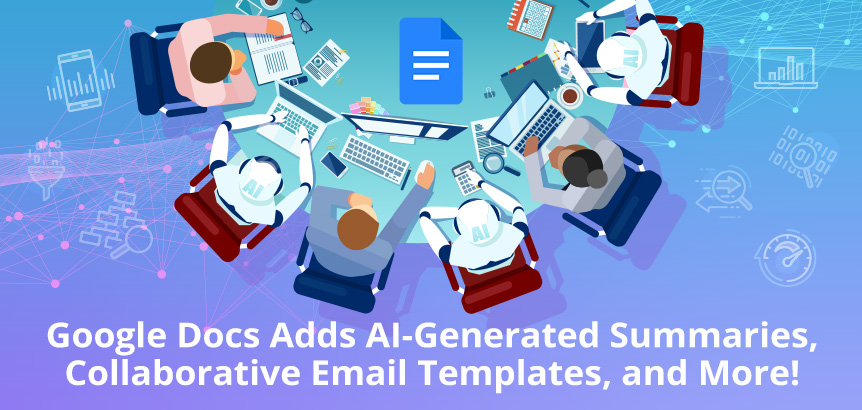 Google is calling this set of new features "Smart Canvas." And Smart Canvas was built to use the company's AI capabilities. Let's see how that will apply to Google Docs.
When you're on Google Docs, a "Summary" section will appear to the left of a document. Here's what it can do.
It can "provide a brief overview of the main points in a document, so you can quickly parse (pull) the information that matters and prioritize where to focus."
The summary feature can parse information automatically when enabled, but you can do it manually as well. You can try this feature out right now if you're an avid user of Google Docs.
Now, the core of these new updates that Google is releasing really helps with collaborating with your colleagues. In 2021 of May, Google launched a pageless format that allows remote coworkers to work on documents.
It made it easier for teams to work on wide tables, large images, and provide detailed feedback using comments. And if you ever needed to print or convert a PDF, you could do so and switch back to a paginated view.
But now, you can easily create a checklist or see contact information for your coworkers.
Google Docs has introduced a new email draft template that lets you and your team create emails together. This could be extremely helpful for email marketing pieces to help string a drip campaign together or draft multiple templates for your day-to-day business needs.
You now have the option to watermark your documents and emails. Google Docs has added labels such as "Confidential, "Draft," and other watermarks you can check out.
Google Workspace is in the midst of a transformation here. If you have a remote team, then it's definitely something to consider using.
Google Docs recently added in May a built-in task management system, emoji reactions, table templates, and the ability to take meeting notes, and you can actually call your team to have a meeting.
This only scratches the surface of new features they've added since May 2021. So if you have remote colleagues, then definitely take advantage of what Google Workspace has to offer. For now, it's free….
for now.
Want to read this in Spanish?
Spanish Version >>