Google I/O 2023 Recap: AI Search Upgrades and More!
1 min 46 sec read
May 11, 2023
This week, Google unveiled some AI-driven search upgrades at their annual I/O conference, and there's a lot to cover in under 3 mins. So we'll skip the new phones and tech gear to keep it tight and jump right in!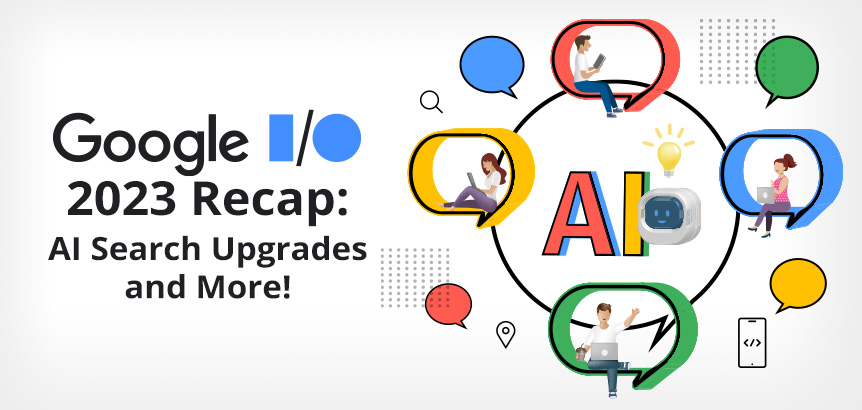 Google is applying generative AI features to enhance search results. They're calling this new approach to queries the "Search Generative Experience" (SGE).
SGE simplifies complex searches and breaks down key information into digestible pieces that are linked to deeper resources.
For example, if you ask the question, "What's better for a family with kids under 3 and a dog, bryce canyon or arches."
You'll see a snapshot of information about both parks with recommendations on why they're great, stroller-friendly, etc., and it'll even throw in some suggestions, like why the kids might like one park over the other in terms of things to do.
SGE doesn't stop there.
You can tap on a search button to ask follow-up questions, which takes you to a new conversational mode to learn more about a topic.
Google is also using SGE to enhance online shopping. You'll find detailed product information, up-to-date reviews, ratings, prices, images, and more. This generative AI shopping experience is built on Google's Shopping Graph, which has 35 billion product listings that refresh every hour.
Google announced another new feature called "Perspectives."
It's a tool in the search results that shows long-form videos, images, and written posts from forums, social media platforms, and Q&A sites.
Perspectives adds a human touch to understanding a topic through other people's experiences and point of view.
Here's how it works. Let's say you're traveling somewhere and you look up, "How to make friends in a new city." The Perspectives filter will show personal tips and stories from a variety of online sources in the search results.
Of course, Google will be monitoring this tool for content quality and will reward those with first-hand experiences and deep knowledge on a subject.
Here are some other Google I/O announcements you might like.
They've made their Bard chatbot available to 180 countries and territories. They've made major upgrades, and now you can see and include visuals in your prompts because they've integrated Google Lens into Bard.
Maps will soon have an immersive live view that'll allow you to literally see your route, real-time weather, simulated traffic, and so much more.
Google is rolling out a Magic Editor tool, which lets you edit photos without needing pro-level graphic design skills.
There's a lot more that was covered at Google I/O. So check out this video below to get everything they covered during their two-hour event in under 10 minutes.
Want to read this in Spanish?
Spanish Version >>