Google Updates: New Search Engine, Project Magi, AI Ads, and More!
1 min 38 sec read
April 21, 2023
Google is putting the pedal to the metal to stay ahead in the AI race.
We've got a lot to unpack, so strap in your seatbelts as we cover this week's updates.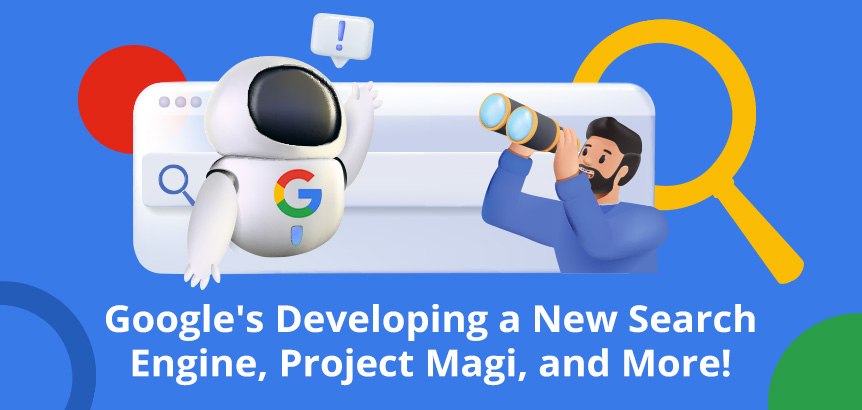 Google is developing a new search engine
while upgrading the current one with features under a project called "Magi."
We don't really know too much about what Google is planning for the future. But here's what we know so far.
It's definitely going to be AI-powered, and according to the New York Times, "The new search engine would offer users a far more personalized experience than the company's current service, attempting to anticipate users' needs."
Google said this new search engine would learn what you want to know based on your searches, recommend things to buy, help you research, etc., all while being conversational as if you're talking to a friend.
Google has all hands on deck to get this new version of search built out. They envision putting AI tech in every phone and home in the world.
They're still in their early stages, so we'll just have to see.
But in the short term, Google plans to roll out Magi next month to a subset of users, an updated version of the search we use now.
Think of Magi as your personal assistant.
It'll help you book flights, buy goods, and complete other kinds of transactions or get information, which sounds like another chatbot to compete with Bing's.
The next update is still all about AI. Google is feeling like Oprah and putting it into everything.
From Google Earth to Image Search, it's all getting AI.
We even have some new products coming out, like "GIFI," – an AI image creator. "Tivoli Tutor," which helps you learn a new language. "Searchalong," a chatbot for Chrome where you can ask questions while you look stuff up.
Google is set to
deploy a generative AI ad tool
embedded in the Performance Max option of Google Ads.
The way it'll work is that you supply a creative asset like text, images, and/or video for one campaign.
And then Google's AI tool for ads would mix, match, and generate content to create ads based on the intended audience, campaign goals, and more. It's not that new, but it will only get better.
And with that, we've reached the end.
So, do you think Google Search will look the same a year from now? Let us know in the comments below.
Want to read this in Spanish?
Spanish Version >>