Google Search Retires Support for Internet Explorer 11
2 min 00 sec read
October 05, 2021
On October 1st, Google software engineer
Malte Ubl announced via Twitter that Google Search would no longer support Internet Explorer 11
. He said in his Tweet, "We did the Math. It is time."
As a web developer this is one of the happiest announcements in a while: Google Search ended support for IE11 in its main product 🎉 (you can still search but will get a fallback experience). I'm mostly posting this so you can send it to your boss 😛. We did the Math. It is time.

— Malte Ubl (@cramforce) October 1, 2021
In an article by 9to5Google titled,
Google Search No Longer Supports Internet Explorer 11,
they have outlined Google's reasoning as to why.
We kind of already know why. Internet Explorer 11 (IE 11) has been on the decline for a while now. There are two demographics that still use IE 11. People over 100 and outdated businesses like your public library.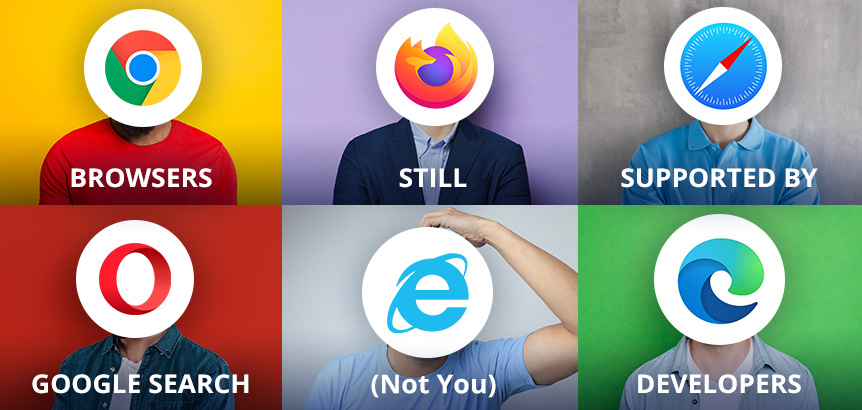 We're kidding about people over 100 who still use it, but there are businesses using IE 11 still. And it's not that they won't be able to search via IE 11, they will be able to, but it'll be a stripped-down version of Google Search.
Google's interface and the search result pages will look as basic as they come when IE 11 users visit google.com. So imagine the Google Search Interface from 2011 with the 2018 logo redesign.
As of September 2021, a little over 1% of the browser market currently uses IE 11. It's a tiny demographic, but many enterprises rely on IE 11 for legacy applications.
It looks like it's time for an upgrade
. The problem was maintaining an outdated browser to work with modern web applications. It's a lot of work for Google's developers.
Now you know why Malte was so excited to announce the end of supporting IE 11. The Google Search team evaluated the costs of maintaining the browser properly to support modern applications and compared it to the current number of IE 11 users. The math didn't add up for their development teams to work on it, and they pulled the plug.
Google says that it's time for an upgrade. IE 11 users will see a prompt to download Chrome on google.com. And if you still like the feel of IE, then you might prefer using Microsoft Edge, which is IE's replacement since Microsoft planned to phase out their legacy browser.
In fact, Microsoft's blog post about
the future of IE on Windows 10 is Microsoft Edge
. Microsoft plans to fully discontinue IE on June 15th, 2022.
And with that, we bid you adieu Internet Explorer. You will be missed… sort of. We weren't too fond of you not responding once we opened up more than 3 tabs, but for some, you were our first web browser.
Rest in peace, IE. Thank you for always being there so that we could download different browsers whenever we got a new PC.