Google Simplifies Tag Manager and Adds 4 New Features for Discovery Ads
1 min 26 sec read
August 05, 2022
There's a lot of Google news to unpack here, so let's get into it.
The company has released a simple, centralized tag solution
that can be placed on top of existing global site tag (gtag.js) implementations on websites.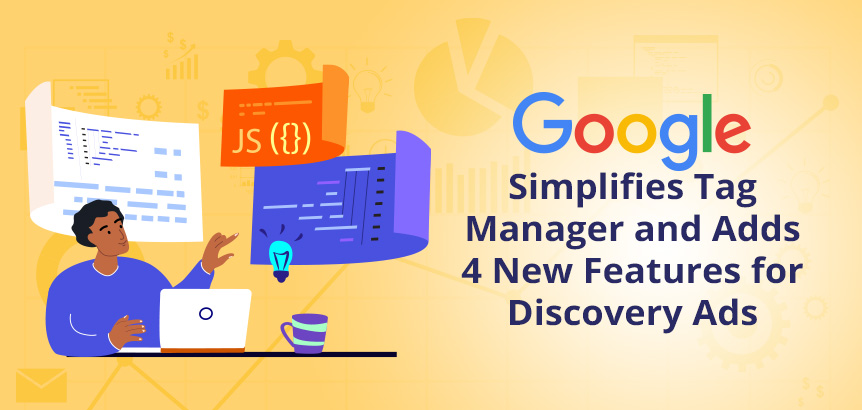 If you don't know what the Google tag is, it's a snippet of code placed at the top of web pages. This tag is what helps you add and manage conversion tracking, site analytics, remarketing, and more.
This new tag is awesome because it's easy to install on websites. Since only one line of code does it all, there's no need to edit or install more to get started.
It has codeless features built-in to analyze events and manage and consistently configure other tags from one interface, such as a Google Analytics or Google Ads account.
It's now easier to combine, reuse and set up sitewide tagging with Google's simplified tag. And now, marketers who may not be code-savvy don't have to worry about it anymore and can focus on driving results for their campaigns or content creation.
In other news,
Google has announced 4 new features for Discovery ad users
:
Enhanced Campaign Management
New Audience Insights
Improved Creative Support
Better Ad Experiences
Better Ad Experiences:
Google is making ads more browseable in Gmail Social and Promotions tabs. They'll feature images and prices for products and use machine learning to match assets at the right time to the right audience.
Improved Creative Support:
When creating an ad, advertisers will see a message to add additional headlines, aspect ratios, and text overlays on images. They'll get live feedback on the strength of their ads from "Poor" to "Excellent" and have guidance to improve them.
New Audience Insights:
Advertisers can view segmented audiences on the insights page to see which group would drive more impact. They can compare the performance of their ads across audiences and take action to turn off, switch or edit ads, and more.
Enhanced Campaign Management:
This feature allows advertisers to create and reuse audiences across campaigns. And they can use the Google Ads Editor and API to manage campaigns at scale.
That's a wrap of Google's latest updates!
Want to read this in Spanish?
Spanish Version >>