Google Updates To Know: Universal Analytics Will Retire, SMS Alerts for Local SMBs, and More!
2 min 03 sec read
March 17, 2022
Alright, everyone!
There's a lot to unpack about Google in this 3MDD, so we will jump right into it with the major update you need to know.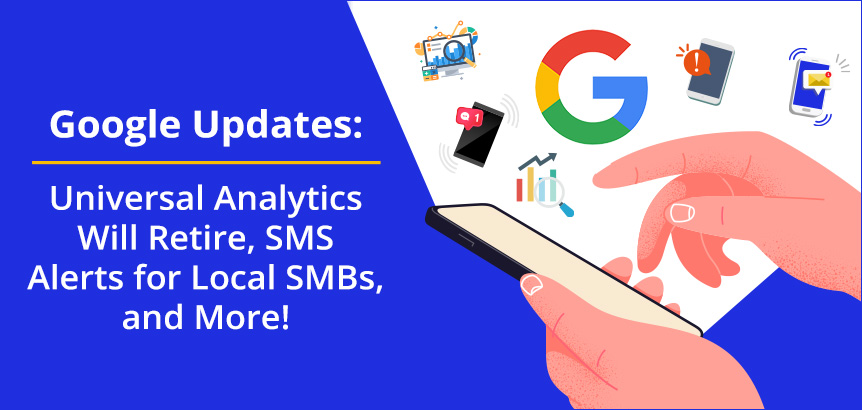 Google wants you to
prepare for the future with Google Analytics 4
as they will be sunsetting Universal Analytics.
Here's what that means for you. On July 1st, 2023, Universal Analytics will cease to process website hits. Google's Analytics 360 will also stop processing data on October 1st, 2023.
After these end dates, you have only six months to access and back up your data before it's inaccessible.
Google Analytics 4 (GA4) will be the main analytics/dashboard for your website if that's what you use. GA4 will not rely on cookies, and its data model is based on events made by users. It does not store IP addresses.
That's because Google is trying to stay on the right side of privacy regulations. It makes sense if you think about that. They've been in some legal hot waters in the EU with their GDPR laws, and even some countries like
France declared Google Analytics illegal
.
If you own a local business, you'll love this new feature Google is working on.
This feature was killed years ago, but
Google is retesting SMS notifications for Google Business Profile chat messages
. So stay in touch with your customers and never miss a lead via text.
Next, Google is enhancing the search results page when you look for places to stay while you're traveling. They've released
new tools for hotels to reconnect with travelers
.
People are traveling again, so Google is helping hotels gain more reach by giving them free booking links.
Those links will show up on the search results page or Google Maps when you're looking for a place to spend a few nights somewhere. From there, you can complete the booking process.
It's driven hotels a lot of business, providing them useful insights and analytics. Hotels can share their rates, availability, and customize their listings with photos, videos, and what makes their hotel a unique place to stay.
#ICYMI, Google hosted the
Google for Games Developer Summit
on March 15th. Check that link out if you're into building PC/Android-based games. Google is helping you create high-quality games and reach growing audiences worldwide.
Now, an upcoming event you won't want to miss if you're into SEO.
Google is hosting their third edition of the
Search Central Virtual Unconference 2022
.
The event will be on April 27th, 2022, and will run from 11:00 a.m. EDT to 2:00 p.m. EDT. You can register on March 30th at 6:00 a.m. EDT sharp to grab an open seat to attend.
Their page strictly says this is not a conference. No speakers or presentations are coming from Google. It's about you and others in the SEO community discussing topics of interest. Each group will have one or two facilitators.
These facilitators could be Googlers—*cough* John Mueller— product experts and other experts. You could be a facilitator if you apply on the RSVP page to learn more.
We hope to see you there!
Want to read this in Spanish?
Spanish Version >>