Google's MusicLM Creates Music From Text in Any Genre
1 min 18 sec read
January 30, 2023
With all this talk about AI these days,
Google researchers developed a new AI called MusicLM, which takes text prompts and turns them into music
.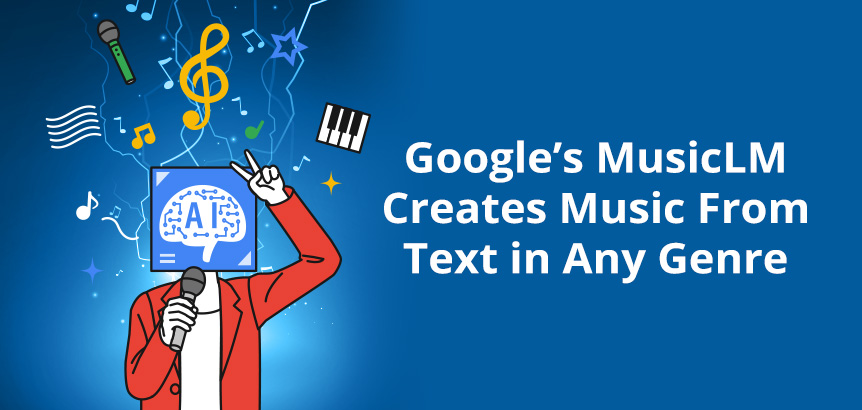 Google's MusicLM can also take hums or whistles and turn that into other instruments. The way this new AI tool works is very similar to DALL-E.
Right now, MusicLM isn't available to the public to mess around with like ChatGPT, but the company has uploaded
samples of music generated from text
for you to check out.
MusicLM's samples range from pretty cool to super weird, but all of them are remarkably impressive at the same time.
The AI can make 30-second songs out of text paragraphs or a five-minute track using two-word prompts alone.
On the sample page, some of the descriptions instruct the AI to make music by mentioning the genre, vibe, instrument, feeling, setting, music for a scene in a movie (e.g., prison escape), and more instructional prompts.
MusicLM can generate human vocals and can get the tone and pitch right, but the quality is a little off, and the lyrics are hard to understand sometimes—it sounds like a Sims character speaking.
How MusicLM works is better off explained by a researcher at Google.
But the whitepaper claims it is one of the most advanced systems out there and can outperform similar AI tools in terms of "quality and adherence to the caption."
For now, Google's MusicLM will be for internal use only; however, they plan on releasing the dataset publicly. That dataset consists of 5,500 music-text pairs, which could help train and evaluate other musical AI tools.
Now, this could be one out of the
20 AI innovations Google is planning on revealing this year in May
.
Google is trying to challenge the AI industry, especially Open AI's ChatGPT tool, since they partnered with Microsoft recently.
Google plans to unveil its own search chatbot feature, and we can't wait to cover that story soon.
Want to read this in Spanish?
Spanish Version >>