Instagram Adds Music to Photos and More In-App Features!
1 min 12 sec read
November 10, 2022
Instagram added a feature that lets you
add music to still image posts
on your feed.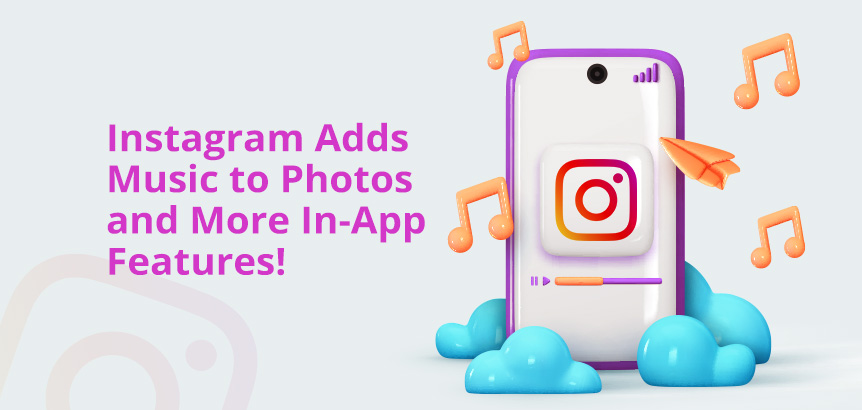 Just like you would with Reels or Stories, you add your favorite tracks to images as you create your posts.
The "Add Music" option allows you to pick a segment of a song between five to 90 seconds. On top of that, you can add visual elements to spice up your static image posts and possibly boost engagement using trending songs.
That isn't the only new in-app feature Instagram has added lately.
The company is
rolling out an in-app scheduling tool
, which they've been working on since July.
As the name implies, Instagram's post scheduler will let you directly plan image/carousel posts, Reels, etc., in the app, and you can schedule them up to 75 days in advance.
All you got to do is hit "Advanced settings," and from there, you'll see a "Schedule this post" toggle button.
When you want the post to go live, you'll need to head back to the Instagram post flow and tap "Schedule." You can see all your planned posts in the "Scheduled content" section and switch dates if needed.
Instagram also rolled out a new feature for Reels called "Achievements," which has a gamified feel.
You'll be able to unlock achievements in the app by completing different actions like creating Reels, collaborating with a creator, engaging with your community via interactive content, making more than one Reel a week, and using trending audio/effects.
Once you've completed a task by publishing a post (e.g., a Reel), you'll get notified that you've unlocked an achievement.
And you can track what actions you've completed and know which achievements you haven't earned yet.
So challenge yourself to unlock all the achievements in one month by creating more content!
Want to read this in Spanish?
Spanish Version >>