Instagram Copies TikTok and Users Are Already Upset
1 min 36 sec read
July 27, 2022
If you've logged onto Instagram lately and said, "Hey, this looks familiar!? Oh, yeah! It looks like TikTok" Well, you aren't alone on that.
In fact, many users who launched the app to see the new interface weren't happy and,
even The Kardashians hated on the new Instagram
feed.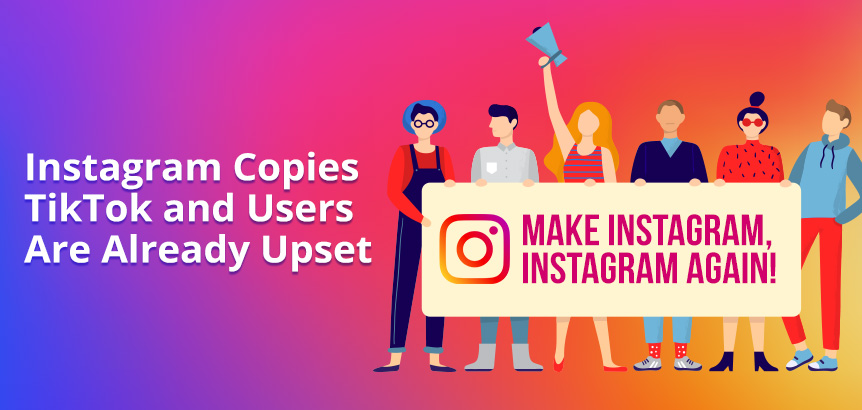 Here's why so many users are upset with Meta's move to make Facebook and Instagram more like TikTok.
Instagram is making almost all videos be Reels
and breaking up the feed to show more content from strangers versus people you follow.
Part of this change includes remixing public photos with other users and videos as well.
Videos and Reels are combined into one button. You can record content from the front and back of your phone using the Dual camera feature on the app. Also, some videos will play the audio automatically while others won't — unless you set your phone on silent. And fullscreen videos instantly turn into Reels.
Videos under 90 seconds will automatically be posted in the "Discovery" recommendation feed, kinda like Tiktok's "For You Page."
So back to the story at hand.
Kylie Jenner shared a screenshot of Instagram's new interface and posted this caption, "Make Instagram, Instagram again," followed by, "(Stop trying to be TikTok I just want to see cute photos of my friends). Sincerely, everyone."
It got over 1.1 million likes and even led users to start a petition on Change.org, which has 100,000 signatures already.
Head of Instagram, Adam Mosseri, said, "There's a lot going on Instagram right now. We're experimenting with a number of different changes to the app, and so we're hearing a lot of concerns from all of you."
But that didn't stop protestors yelling their complaints last Saturday outside Instagram's headquarters. They want Instagram to go back to its roots of being a photo-sharing-focused app.
However, not everyone agrees with those who are upset. Some video content creators think the app will lose its popularity if it goes back to its roots.
Instagram realizes that content is king, and it's in the form of short TikTok-like videos. And their goal is to serve you more content from randoms than those you follow.
Those who wish to follow just their friends and family still can, but it'll be under a separate tab. Cause in the end, whatever Meta tries to do isn't up to you, but to keep more loyal eyeballs on the app.
We'll just have to see how they'll move forward from here.
Want to read this in Spanish?
Spanish Version >>