Instagram Is Testing a New Option Allowing Users To Rearrange Their Profile's Photo Grid
1 min 32 sec read
January 10, 2022
To kick off the new year,
Instagram is testing a new option that would allow you to rearrange your profile's photo grid
.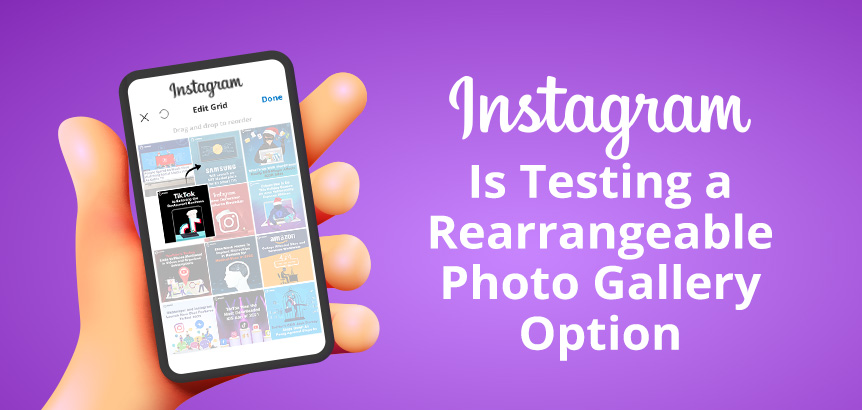 That's right!
Instagram may soon let you rearrange your posts in any order you wish. If this feature were to roll out officially, all you would have to do is go to your settings and press the new "Edit Grid" option.
From there, you can move your posts around in case you don't like the order in which your content appears or whatever the reason may be. The point is, you may soon have the option of curating your feed how you wish.
On the heels of that new option coming out, Instagram is also testing a feature to enable pinned posts.
This change could be huge. Instagram is one of those platforms that does not update how their profiles' main feed work. Now, it seems like that isn't the case anymore.
Adam Mosseri (the Chief of Instagram) and his team are willing to experiment with the platform. He wants to align his changes with what users want to see/request of the company.
However, this change could also reflect how people spend more time watching Reels and Stories than interacting on a user's profile or the main feed.
Maybe this move would allow people to spend more time on user profiles? Maybe not.
Mosseri made it clear that Instagram's focus currently is video content on the platform. In the future, it may be possible that Instagram's main feed would be "de-emphasized" to help users resonate more with videos over static images.
With that being said, we predict that Instagram will be willing to experiment with how video posts are displayed on the feed. You never know. They could copy TikTok user profile feeds where they preview video thumbnails in a gif-like fashion for each video clip.
We're just speculating here. But what we know for certain is that Instagram will always be exploring new ways to drive engagement up over the competition of social network platforms.
Either way, if Instagram does roll this out officially, then this could make it easier to showcase your best posts of all kinds. This is especially true if you love creating multi-posts that form a larger image for a more connected visual experience on your profile.
Want to read this in Spanish?
Spanish Version >>