Instagram Launches Channels: A Telegram-Like Chat Feature
1 min 18 sec read
February 17, 2023
Instagram launched a new broadcast chat feature called "Channels,"
which lets creators share one-to-many messages with their followers.
Mark Zuckerberg was the first to announce the feature and will use it to share updates about Meta. Now before we get to the slight criticism about the feature, let's tell you what it's about.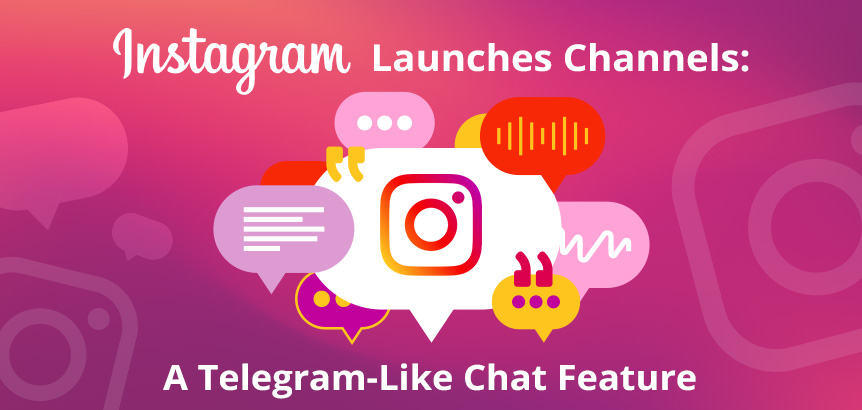 Instagram's Channels let you start a group chat with your followers where you can share text or audio messages, share pics, polls, reactions, and more.
It's a way for you to see the behind-the-scenes action of whomever you're following or get updates on what they're doing. For example, if you're a musician, you can share tour dates or a celebrity, you can start an Ask Me Anything thread, etc.
It's a group chat, basically. Right now, it's only available to top content creators, influencers, celebrities, athletes, musicians, etc., so it's not available to everyday people just yet.
Here's how it works if you were to get access. Within your Instagram inbox, you'll be able to start one broadcast channel, which your followers will get a one-time notification to join.
Once it's live, you could encourage followers to join by sharing stickers in your Stories inviting them. And soon, you'll be able to pin an invite to your profile.
Anybody can discover a broadcast channel and see the messages. Still, only followers will get notified when creators post updates. And they can only emoji react to messages or vote in polls. That's Instagram Channels in a nutshell.
Now, some sources are saying Meta is copying Telegram's channel feature. They both do the same thing, but it's not the first time Meta has copied a platform's feature.
In the coming months, more users will have access to Instagram's Channels as people are on a waitlist to try it out. Meta does plan on rolling it out to Facebook Messenger. They also want to include the ability to add other creators to the group chat.
Want to read this in Spanish?
Spanish Version >>