Instagram Swipes Left on 'Swipe Up' Links And Replaces Feature With Stickers
1 min 20 sec read
August 23, 2021
If you're an Instagram influencer (who isn't these days?), and you love having the swipe up feature to share links, then you better say your goodbyes and say hello to stickers. Starting August 30th,
Instagram is retiring the popular swipe up feature
and replacing it with linkable stickers.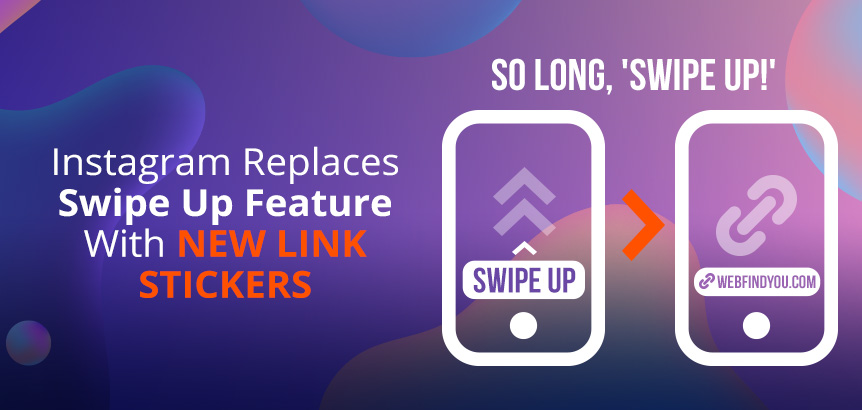 If you aren't too familiar with swipe up, it's a feature on Instagram Stories that allows people to visit external web pages by swiping up. The new link stickers are essentially a tappable version of that.
Instagram hopes that these stickers will offer users more "creative control" while "streamlining the stories creation experience" because, unlike swipe up, users can select the format for the looks of stickers, use GIFS, and get really creative with it.
Another key difference about the change is that viewers can respond to stories with link stickers but cannot respond to swipe up stories.
The swipe up feature has become a coveted status symbol to creators with 10,000 followers or more. It marked a transition from an ordinary user to Instagram influencer status—without a doubt, it plays a role in how brands choose to work with them.
In June, Instagram began testing the sticker feature with various users—and not just those who already had the swipe up capability.
According to an interview between The Verge and Vishal Shah, Instagram's former head of product, "the stickers fit more with the way people currently use the platform." Shah said the goal is to eventually do a wider rollout of the stickers.
So now that the swipe up feature is being swept up, how can we tell what separates a normal user from an Instagram rising star?
Can you sense the sarcasm?
Well, up-and-coming influencers can breathe a sigh of relief. For now, Instagram says that only people who already have swipe up privileges will receive the sticker option.
That could change down the line since they are "still evaluating" giving more users access to the feature. We'll just have to wait and see. Stay tuned!