Instagram's New Click To WhatsApp Feature Enhances Customer Connection on Message Ads
2 min 1 sec read
October 04, 2021
Instagram is making it easier to find new customers and boost engagement using its app. They just announced that businesses can now connect their WhatsApp business account directly to their Instagram business account. They will then be able to display a WhatsApp click-to-chat display button on their profile.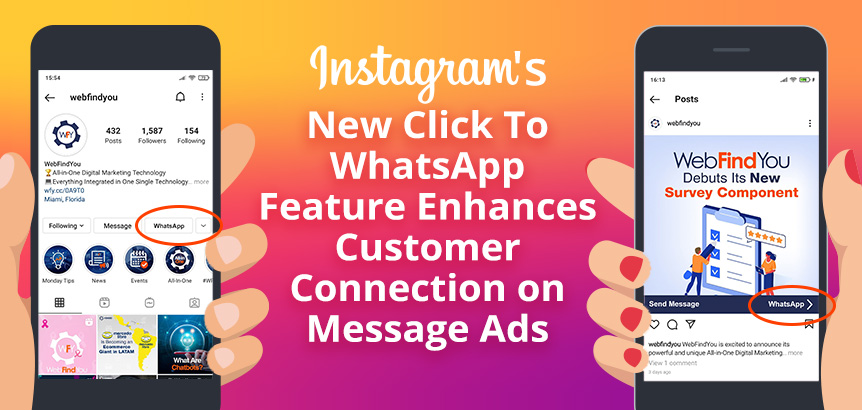 Once connected,
businesses can boost posts on Instagram that direct customers to message them via WhatsApp
. According to Instagram, it's an effort to "reach more people and excite them to be their next customer through personalization." Businesses will also be able to use WhatsApp's automatic responses and organizational tools by connecting their accounts.
We personally love this idea! WhatsApp has become such a popular form of communication for people around the world. And since Insta and WhatsApp are both owned by Facebook, it was only a matter of time before Mark Zuckerberg found a way to marry the two.
Click-to-message ads are likely something that we will be seeing more of in the coming months. Facebook has been experimenting with the concept on their different apps for a while now to create more direct and personal connections between businesses and potential customers.
Just last month,
Facebook launched a variety of click-to-message ad options
. Now they seem to be expanding on this concept with Instagram. With the new ad options, when businesses create a message ad, Facebook detects the preferred messaging platform of individuals who are seeing the ad. Whether it be WhatsApp, Facebook Messenger, etc., the ad is then personalized to direct each user to message the business via the messaging app they use most often.
Why is Facebook putting such a strong focus on messaging capabilities? Well, Facebook says that 75% of adults prefer to communicate with businesses through messaging. That number seems high, but it makes sense. Nowadays, people would rather send their questions in a text than call to hear a robot list options and be on hold for what feels like forever listening to looped elevator music.
We've all been there, and it's the worst.
So in short, if you're a business owner, it's an ideal time to use social media to your advantage as a way to get new leads. Interested in adding your WhatsApp business account to your Instagram business page? Insta has outlined the steps for you, which we've provided below for convenience:
Under profile settings, add your WhatsApp business number to "contact options" on your Instagram business account.
Choose an existing post on your Instagram business account that would inspire your audience.
Click the blue boost button, choose messages and select WhatsApp
Set a goal, audience, budget and duration for your ad that will help you reach your objectives.
Review your selections, preview your ad and tap "create your ad."
Once approved, your ad will go live within 24 hours.
Seems easy enough! Do you plan to give this new feature a go? Let us know in the comments how it worked out for you and if it's helped with customer engagement. Looking forward to hearing from you!