Instagram's New Features Wrapped Up for January 2022
2 min 06 sec read
January 24, 2022
As the first month of 2022 comes to an end, Instagram has dropped three news updates to their platform. Let's jump right into it, starting with
Instagram introducing subscriptions to help creators earn recurring monthly income
.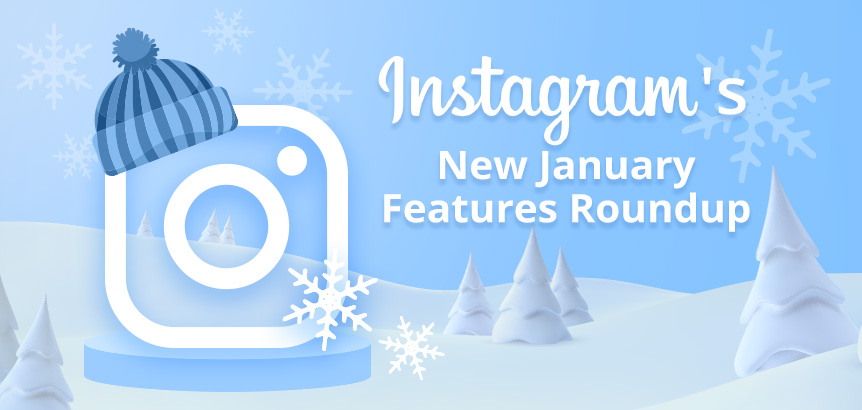 The ability to subscribe to creators' content currently exists on Meta's Facebook app, and even
TikTok is starting to test the support for paid subscriptions
as well. Look who's copying who now.
Instagram subscriptions enable creators to produce exclusive content for their devoted followers.
Creators can set their own monthly price and unlock a subscribe button on their profile to show the offers/benefits of subbing to their channel.
Here are some of those benefits: Creators can launch exclusive live streams and Stories with their subscribers that non-subscribers won't have access to. Subscribers will also have badges that allow creators to identify them when they comment or send messages.
Instagram is doing a soft launch, but you can sub to the following creators to check it out: @alanchikinchow, @sedona._, @alizakelly, @kelseylynncook @elliottnorris, @jordanchiles, @jackjerry, @bunnymichael, @donalleniii, and @lonnieiiv.
Moving on,
Instagram now adds a video remix option to all videos
, not just Reels.
The TikTok-like feature lets you view any video to create your own take of it. All you have to do is tap the "three dots" on any video, and you'll see the option labeled "Remix This Video." You also have the option of disabling the feature in your settings as well.
Remixing videos have become a key factor in enabling people to participate in other people's videos. And you really see it happen with meme-like content, allowing to keep the joke going of the meme or whatever the content may be.
Last but not least, Instagram is introducing a "vibe check" on its feed and will now
reduce the reach of posts that are likely to contain bullying or hate speech
.
Now we know this isn't a fun new feature, but the update serves to better the user experience in what we see on the platform. Posts that contain hateful language, bullying, disinformation, or incite violence will now be detected by Instagram's algorithms.
Once detected, those posts will be shown lower on the Feeds and Stories of a person's followers. But how will Instagram know which non-reported posts violate their rules?
Here's what Instagram said: "To understand if something may break our rules, we'll look at things like if a caption is similar to a caption that previously broke our rules."
Not only just that, but if a person who has a history of reporting content is likely to flag a post, it will also show similar content they've reported lower on their feed.
Instagram is relying on machine learning algorithms to be able to censor posts that violate their rules on the platform. But will it be effective? We'll have to see. This move to reduce content that's hateful, full of fake news, etc. stems from the Facebook Files leak last year.
Either way, if it works out over time by reducing harm and online bullying, then the payoff shows the ethical side of Instagram and the positive growth of Meta "learning their lesson."
Want to read this in Spanish?
Spanish Version >>