Instagram's New Features Wrapped Up for October
2 min 41 secs read
October 26, 2021
Instagram's brewing up some new features to make magic happen on the app and now… on desktop. Let's wrap up October's feature updates for Instagram (IG), starting with one that's been long overdue.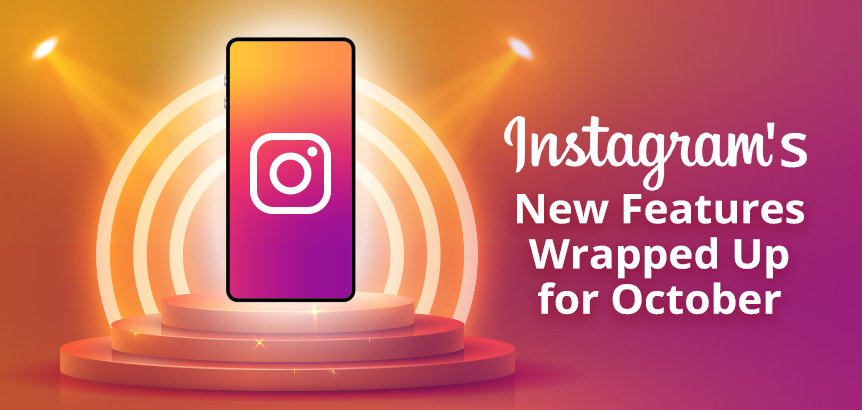 Finally,
Instagram will enable users to upload photos and videos via desktop
, and some of you have already started enjoying this capability since Oct. 21, when it became available. It was about time, IG!
Here's a quick rundown of how it works: Users can post photos and less than a minute-long videos via desktop. Until further development, they cannot be stories or reels.
Still, IG has decided to make social media managers happy. Now, Instagram has joined other popular social media channels: Facebook, Twitter, and LinkedIn, letting you post from your desktop instead of being strapped to phone-only posting. Posting on IG before this update meant that you had to go into your browser's developer mode and simulate a phone to post content via desktop—super inefficient.
However, if you use WebFindYou to power your Digital Marketing efforts, then you have always had simplified social media management and posting where you organize your posts in one location and then auto-post to all your social media platforms, including Instagram, with the click of a button.
Anyways, back to what's new with IG videos,
the company is testing longer stories and new stories-to-reels links to add broader video integrations
to their app.
IG has decided to extend the length of stories by one minute. You won't be able to cut down the stories into smaller parts, but you can add music and effects. So now you can upload reels to stories, and IG is testing a linking option that lets you take users from stories to reels and vice versa.
On to our next headline!
Instagram adds new data analytics to provide more performance insight for marketers
, and they've added 3 new metrics.
The first is
accounts engaged
, which shows the total number of accounts that've interacted with your content.
The second is the
engaged audience
metric. It provides demographical insights about users who engaged with your content, whether they follow you or not. It also includes metrics like top cities and countries as well as top ages and genders.
And similar to engaged audiences is the third,
reached audience
, which tells you demographic information about the people you've reached with your content, essentially an impressions metric.
Another feature
IG has added are collaboration options for feed posts and reels
between users, plus they added AR-aligned music features to help boost engagement. People can invite others to be on their reel or post, and they'll be able to see how their content performed too analytically.
Similar to this last feature we mentioned,
Instagram added more tools to help creators maximize branded content partnerships
.
To get ready for Christmas, IG is testing monetization options that'll let you add a "partnerships" messaging folder to keep track of your sponsorships, communications and opportunities. These messages are filtered through Facebook's Brand Collabs Manager platform, which connects creators with brands.
Brands will also be able to reach out to creators to set up influencer opportunities and collaborations. This ties in with IG's new digital storefront option for creators that opt-in for IG's affiliate program and offers creators another avenue to promote to their audiences with sponsored products.
Creators can open virtual shops and help give brands more exposure and potential revenues. IG isn't stopping there. They're launching branded content ads in reels to monetize shorter videos for creators to help brands.
Smaller additions that are being added to IG are the ability to boost organic feed and story posts. They're trying to monetize whatever they can, it seems. Still, it looks as if Instagram is becoming a little too ecommerce focused.
Is this IG's move to pull more tricks against TikTok and give treats to content creators who stay loyal to the app? Who knows, but hopefully, Instagram doesn't scare users off its platform by selling out and going full ecommerce.
Want to read this in Spanish?
Spanish Version >>