Leaked Memo Claims Facebook Is Altering Its Algorithm To Mirror TikTok's Feed
1 min 36 sec read
June 17, 2022
In previous 3MDDs, we've covered how
Facebook
, Meta has been making copycat moves to be more like TikTok. Well, the cat is out of the bag because a
leaked memo revealed Facebook is changing its algorithm to take on TikTok
.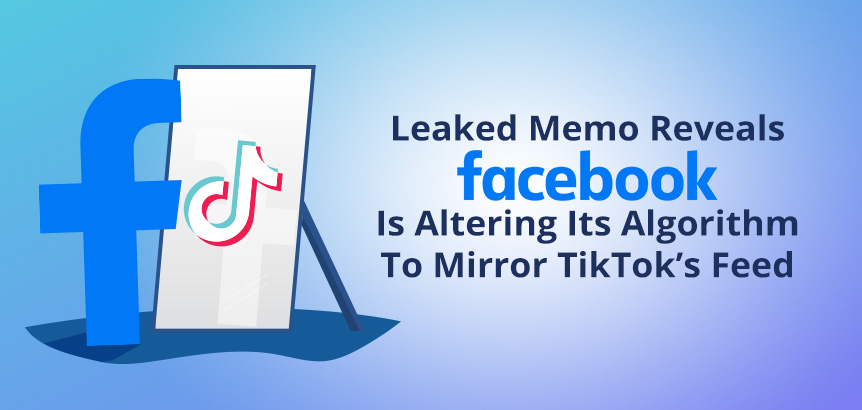 You know the saying, "if you can't beat'em, copy everything about what makes them successful."
Maybe that's not how the saying goes, but it's what Facebook employees were told when they were instructed to make the app look more like TikTok's feed.
Executives knew that short-form videos like Facebook and Instagram Reels weren't enough to keep users engaged on their apps. TikTok redefined the feel and look of a social media feed, and Facebook execs had been closely tracking TikTok's moves.
Even Mark Zuckerberg said earlier this year that they must rethink how Facebook's feed works and looks.
In the leaked memo obtained by The Verge, Tom Alison, Meta's Vice President of the Facebook app, devised a plan to reprioritize the content on Facebook's feed. Instead of seeing posts from people you follow, Facebook will heavily recommend posts regardless of who or where they come from.
You know how Facebook is one app and Messenger is another? That's changing too.
Facebook is bringing Messenger back into its app and will mirror TikTok's messaging functionality.
Facebook and Instagram Reels are going to be progressively pushed on the apps as a way to lure young people back and boost growth on the apps.
In the future version of the Facebook app, the top of the main feed will have a mix of Stories and Reels. Underneath that will be a discovery section of random short-form videos, and the whole look of the app will be visually focused.
The Messenger icon will be placed in the top right corner, and you'll be able to send a direct message to share a post with a friend quickly.
The ultimate goal for Facebook's algorithms is to mimic TikTok's "For You Page." Developing a For You Page-inspired algorithm will push more content from people you don't follow. It will guess and suggest content you might like, which is what TikTok mastered on its app.
Let's face it.
TikTok is killing it at the short-form content game. Every social media platform has adopted it to their apps—even Google is experimenting with adding short videos to their search results.
So, if you can't beat'em, join'em. See, we remembered!
Want to read this in Spanish?
Spanish Version >>