Legal Slam Dunk Win for South Korea Over Tech Duopoly
1 min 32 sec read
September 02, 2021
Recently, South Korea legally slammed dunked on two major tech duopolies. They
passed an "Anti Google law" to curb Google's and Apple's in-app payment commission
.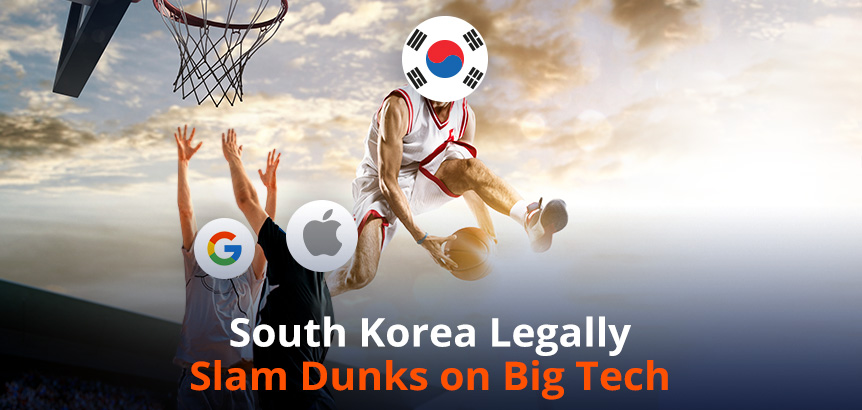 South Korea's National Assembly voted August 31st to prevent app developers from being forced to use their in-app billing systems.
Google and Apple dominate the app store market. If an app developer wants to make money, they are forced to use their payment infrastructures. It's like when you click "accept" for anything you download, except these guys get a tiny piece of the action for themselves.
This is the first time a foreign government has challenged Google and Apple. But is it the last? Probably not. Google and Apple have been feeling the heat from other markets lately.
Right now, Australia's Competition and Consumer Commission is debating similar regulations on how WeChat, Google, and Apple process digital payments.
But what's special about South Korea is that they want to take it a step further.
South Korean lawmakers are discussing and proposing to forbid global tech companies in general from being dominant forces in the app market.
So what will happen here in the U.S.?
Not sure, but! Google plans to lower commission to
15% from the current 30%, following Apple's move last year
to make app developers happy. The
"ehhh"
part about it is that they extended the date to March 2022.
So Google is copying Apple's move from last year, but Apple stepped it up this year after a class-action lawsuit was filed against them in 2019.
App developer Donald Cameron and Illinois Pure Sweat Basketball filed an anticompetitive lawsuit, and Apple proposed a settlement with something else they had in mind to meet in the middle.
Apple will now let app developers tell their customers other ways to pay for their hard work outside the Apple App Store, for example, via email. Not only that. Their settlement has proposed pricing tiers and a transparent report describing the app review process for developers, so there isn't any funny business.
Platforms like Shopify don't even charge their developers for their apps if they bring in less than a million in sales. So will Apple and Google follow suit or at least drop their fees to the single digits?
Who knows, but the global 🌎 tech community is watching. 👀