LinkedIn Officially Debuts Its Freelance Services Marketplace Globally
1 min 56 sec read
October 28, 2021
If you're a freelancer, you now have another option of getting work. LinkedIn just announced the official global rollout of its Freelance Services Marketplace, and as of Oct. 28, everyone can access it. LinkedIn has been beta testing the Marketplace in the U.S. since February 2021, and 2 million of the Microsoft-owned company's nearly 800 million users are already using it.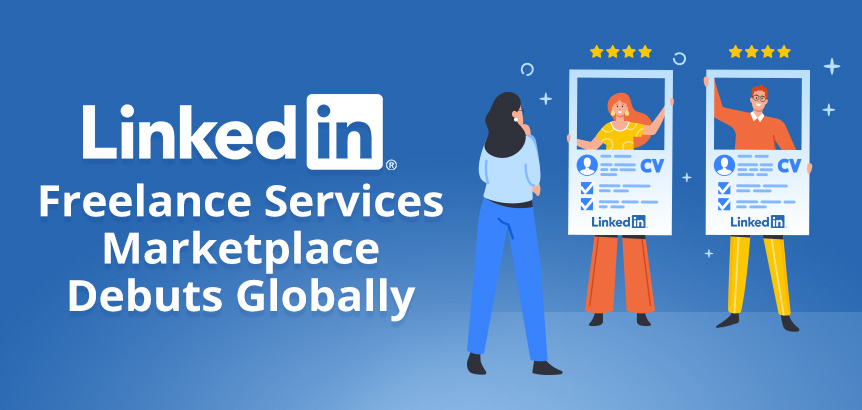 LinkedIn's Marketplace is currently free for all users, and like the popular Fiverr and Upwork platforms which are similar in nature, it allows users to advertise themselves for short-term freelance roles.
Users can set up a freelancer profile by going to their personal profile page, finding the button near the top of the page, and following the guidelines to set up their profile and select the things they'd be interested in working on.
LinkedIn's product manager Matt Faustman told TechCrunch in an interview
that "the Service Marketplace is launching with 250 job categories, and the plan is to expand that to 500." He went on to say, "We are barely scratching the surface. Marketing has been one of the stronger categories to date on the marketplace."
The Marketplace sounds like an awesome new addition, but there are a few less than ideal aspects about it that hopefully get worked out eventually.
For starters, while users can advertise themselves on the Marketplace so they can be found and hired for short-term work, they can't search the Marketplace for work themselves. They must wait to be discovered.
According to TechCrunch's interview with Faustman:
"Clients looking to fill jobs will be able to look for people by way of LinkedIn's bigger drop-down search menu: for example, looking for specialists in brand marketing, you can start to type in that phrase in the search window, and LinkedIn will suggest 'in Service Marketplace' as an auto-complete, which will take you to a list of candidates in that category. In turn, those candidates will be sorted based on how closely you the client might be connected to each individual, either via a work or personal connection."
There is also currently no way for freelancers to negotiate fees or invoicing, so they must wait until they get into more in-depth conversations with the client looking to hire them before discussing fees. And when it comes to leaving reviews, only those who hire a freelancer can leave a review, but not vice versa. That's kind of a bummer.
Apparently, LinkedIn knows it still has some work to do when it comes to features included in the Marketplace. Faustman says that they will reevaluate missing features, such as payments, and will adjust as needed over time.
Overall, the Freelance Services Marketplace sounds like a beneficial addition to LinkedIn's platform, especially as trends in the job market continue to evolve and remote work continues to increase in popularity.
Do you plan on using LinkedIn's new Freelance Services Marketplace? Let us know in the comments!
Want to read this in Spanish?
Spanish Version >>