Meta Down by $31 Billion As Facebook User Base Shrinks
0 min 53 sec read
February 03, 2022
Things aren't looking too good for
Zuckerberg as he loses $31 billion in wealth, and Facebook's market value drops to $210 billion
.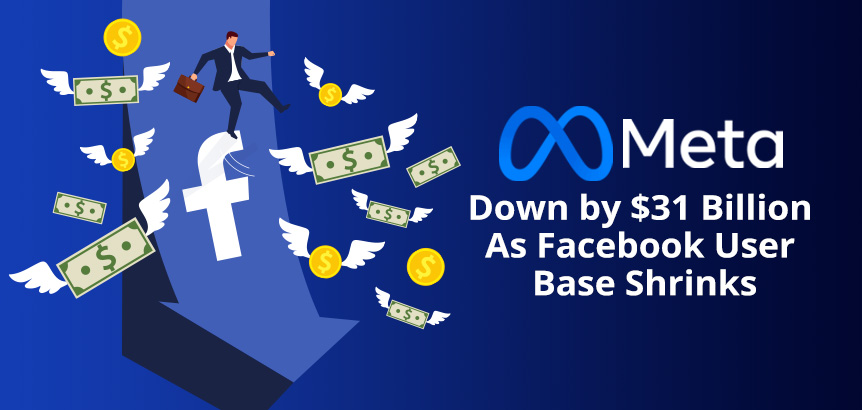 The dip in his wealth occurred on February 3rd, 2022, and it's because investors weren't impressed by Meta's fourth-quarter results as hyped up by analysts' expectations.
On top of that, Facebook showed no growth in monthly users in the fourth-quarter relative to the prior period, raising concerns about the company's future growth. Meta's shares dropped to 24% by 10:25 AM on January 27th of this year.
Meta's steep and trending decline is enough to potentially push Zuckerberg out of his streak of being the Top 10 wealthiest people in the world since 2015. "Boo-hoo." However, losing $31 billion dollars in a day is nothing compared to Elon Musk and his Tesla stock dropping Tweets.
In one day, Musk shared a Twitter poll if he should sell 10% of his stake in the company, and for that one Tweet, he lost $35 billion in a day. You gotta watch what you say, Elon! That one Tweet cost you billions.
Unfortunately, last week, Elon also lost $25.8 billion in net worth but still remains the richest person in the world. Whatever the forces that may be, these plummeting shares are unlike anything Wall Street or Silicon Valley has ever seen before.
Want to read this in Spanish?
Spanish Version >>