Meta Launches Monetization Programs for Metaverse Creators
1 min 03 sec read
April 13, 2022
Meta is going all in and incentivizing creators to contribute to the development of their metaverse.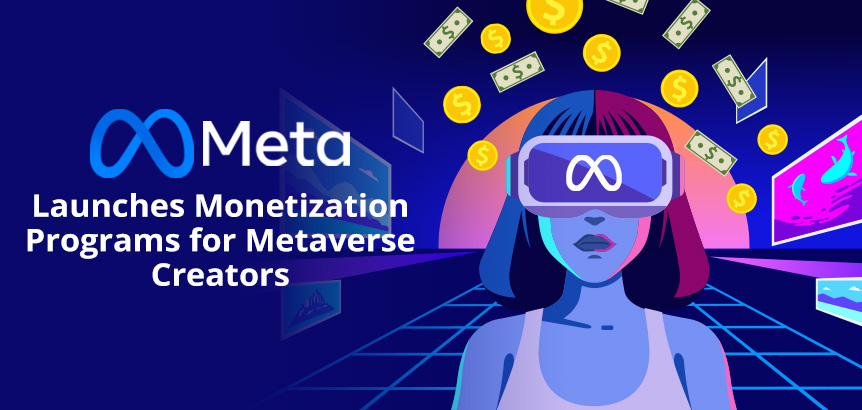 To make that happen, the company is
launching funding programs to fuel the development of Horizon Worlds
.
And those programs come with new monetization tools too. Before we get into that, let's talk money.
Meta is expanding its $10 million Horizon Worlds Creator Funding Program with a bonus initiative they're testing out for developers.
It's a monthly goal-oriented bonus program that pays VR creators for meeting specific criteria that Meta sets. If Meta sees a positive engagement from the developer's work, they get paid extra.
Some of these creators are developing interactive worlds and experimenting with creative uses of VR. Meta can tap into the trends and experiences based on their work.
From there, the company could advance Horizon Worlds' value, making VR an even more immersive and engaging time for participants.
So what are Meta's monetization tools for Horizon Worlds' creators? The company is rolling out a test with a few developers to sell virtual items, effects, etc.
For example, a creator could sell NFTs, virtual clothing accessories, and even sell users access to new worlds.
Meta is giving developers tools to create all sorts of purchasable digital stuff. Creators could make avatar customizations and give metaverse users paid access to unique abilities, 3D items, and more.
The possibilities could be endless in Horizon Worlds. Right now, there are over 10,000 environments in Meta's metaverse.
It'll be interesting to see how it evolves by the end of the year.
Want to read this in Spanish?
Spanish Version >>