Meta Threatens To Shut Down Facebook and Instagram in the EU
1 min 50 sec read
February 08, 2022
Lately, tech companies have been facing scrutiny over how they gather data, especially in Europe. They seem to have a zero-tolerance stance on how Big Tech uses personal data.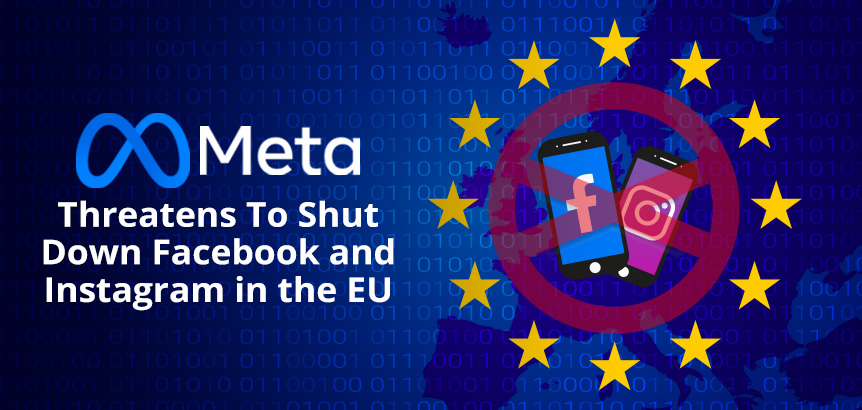 Well, one company can't take it anymore.
Meta said they might shut down Facebook and Instagram in Europe because of a dispute over data-sharing
.
Last Friday, February 4th, Meta issued a warning saying they would take down their services. Now they seem to be "serious" about their threat. In our opinion, we're not sure if the social media giant is bluffing, but here's why Meta isn't too happy.
European regulators are developing new laws that will dictate how European citizens' data will be transferred back to the United States.
And that's what Meta wants. They want to collect EU data and bring it back to their servers. Here's what Facebook said in response:
"If a new transatlantic data transfer framework is not adopted and we are unable to continue to rely on SCCs (standard contractual clauses) or rely upon other alternative means of data transfers from Europe to the United States, we will likely be unable to offer a number of our most significant products and services, including Facebook and Instagram, in Europe."
Long story short, if Meta can't get the data they want, they'll pull the plug on their apps.
The company says that not having the data will hurt their business model and affect their financial condition. I mean, who didn't hear about
Meta's biggest stock drop that had them down by $31 billion as Facebook's user base is shrinking
.
But according to Meta, the regulations imposed by the EU will directly hurt their targeted advertising model unless they reach an agreement. But will the EU budge?
European data regulations will prevent companies from transferring, processing, and storing data from EU citizens to US servers. This is why an EU court declared Google Analytics illegal recently. So they might not budge for Meta if they went after Google already.
So what's Meta going to do? We don't think they're going to shut down their apps in the EU. However, they could switch to a paid subscription model. But in all honesty, would
anyone really pay
for Facebook or Instagram?
Meta and Snapchat have already admitted that TikTok and how their social media company serves content to its users is the future of social media. So we don't think people will miss these apps in the future.
This is off-topic, but don't be surprised when Facebook and Instagram start to look more like a TikTok clone, and you start seeing less static posts. Our takeaway here is that it seems as if Big Tech is about to be broken up and only the freshest (most popular) platforms survive.
Want to read this in Spanish?
Spanish Version >>