Meta's Facebook Reels Launches Globally
2 min 25 sec read
February 23, 2022
Meta has launched Facebook Reels globally
in more than 150 countries for creators to grow their communities.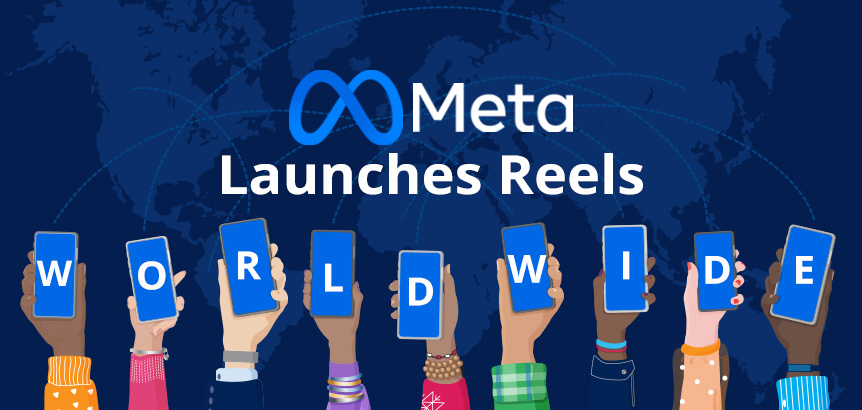 If you don't know, Facebook Reels is a TikTok clone, and now it's available for both iOS and Android devices worldwide.
Meta has added a slew of new features and wants to invest one billion dollars to help creators earn a living creating videos. So let's talk about why they're doing this, the new video editing features, and what the company is doing for those creating content.
Meta is expanding and focusing on short-form video because they know it's the future of how people enjoy social media content. And their own studies suggest it to be true too.
Facebook and Instagram Reels are the fastest-growing content format on the app. Half of the time spent on their apps are users watching Reels.
That's why Meta wants to expand Reels to a more global audience. Or maybe it's to recuperate the loss of followers the Facebook app has seen recently. Either way, Meta is incentivizing creators to do what they do best: create creative content.
The company stated, "We're focused on making Reels the best way for creators to get discovered, connect with their audience and earn money. We also want to make it fun and easy for people to find and share relevant and entertaining content."
Meta launched a Reels Play bonus program and invested a billion dollars to pay creators up to $35,000 a month based on the views of their qualifying Reels.
This program helped creator Jason the Great with the funds he needed to develop even more Reels, and it helped Meta better understand what types of content work best on Facebook.
And that was just one use case example out of the few who have found their success using Facebook Reels. Meta plans to incentivize global creators with the same program.
The company also plans to add direct monetization options for Facebook Reels through ad revenues and fan showing (donating) their support to creators.
Don't be surprised when you see banner or sticker ad overlays on one of your favorite content creator's Reels. That's part of what's to come for global creators if they join the in-stream ads program.
In the coming weeks, Facebook will roll out globally an option for users to purchase Stars and support content creators with them.
There are a lot more advertising options to list, so we'll move on. All you have to know is that soon, Facebook Reels will offer more control in how you and the advertisers can publish/display ads.
Facebook Reel creators around the world will get to enjoy:
Remix: Users can create Reels alongside existing, publicly shared Reels on Facebook. Creating a Remix allows you to use all or some of the original creator's Reel.
60-second Reels: As the name suggests, global users can create videos up to a minute long.
Drafts: Coming soon is the ability to create a Reel that users can save to work on later.
Video Clipping: Meta plans to roll out video clipping tools that make it easier for creators to publish live or longer videos into smaller clips.
Meta has plans to make the following updates. They want to allow users to share public Reels to Stories on Facebook, which could provide more visibility and reach. And Stories can be turned into Facebook Reels.
The Watch tab will be a place for users to watch Facebook Reels directly and Meta is developing tools to help you create Reels in the Watch tab as well. They'll also be showing the most-watched Reels and even provide suggested Reels for select countries.
Want to read this in Spanish?
Spanish Version >>