Meta's Horizon Worlds Is So Buggy, Employees Barely Use It
1 min 29 sec read
October 07, 2022
A month ago, Zuckerberg's metaverse selfie in front of the Eiffel Tower went viral for having graphics that looked like a Teletubbies game on a PlayStation One.
Since then, things have only got worse from there.
Meta has dropped everything to focus on building better graphics for its metaverse. But now, the company's
flagship metaverse app is too buggy, and employees are barely using it
, says an executive in charge of Horizon Worlds.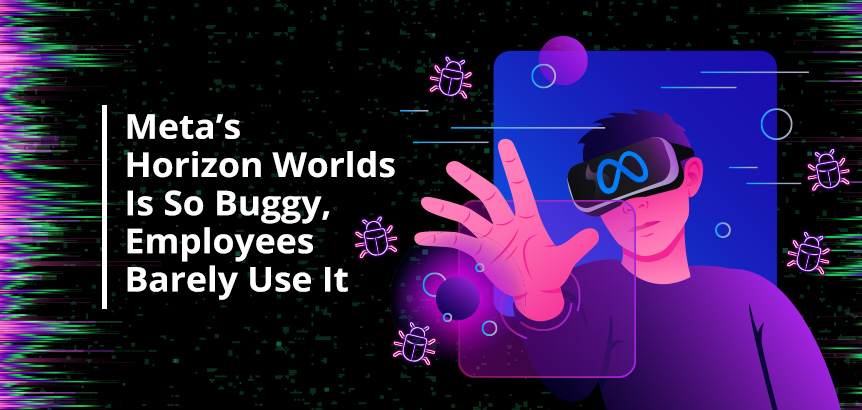 Horizon Worlds is facing quality issues not only from users who are currently exploring it but internally within Meta. One metaverse employee even said, "There are a lot of people internally who have never put on a headset."
A Sept. 15th memo by Meta's VP of Metaverse, Vishal Shah, said the company's team is going on a "quality lockdown."
His team and other users gave feedback, saying it's too difficult to enjoy what Horizon Worlds has to offer because of the performance issues and bugs.
According to Shah, the people building Meta's metaverse aren't too enthusiastic about it. And that's a problem.
He said, "For many of us, we don't spend that much time in Horizon, and our dogfooding dashboards show this pretty clearly."
"Dogfooding," by the way, is tech jargon/slang for a company to use its own products.
Clearly, Meta's employees aren't interested because, in the memo, he stated:
"Why is that? Why don't we love the product we've built so much that we use it all the time? The simple truth is, if we don't love it, how can we expect our users to love it?"
In a follow-up memo, Shah said he would start holding managers accountable. They'll have to start at least using Horizon Worlds once a week.
That's rough.
So rough that the morale at Meta is suffering. Teams have been restructured to focus on Horizon Worlds.
Zuckerberg has dropped over 20 billion dollars to build its metaverse. Meta's core focus from here on out is to make Horizon Worlds better than ever. Facebook and Instagram will be in the back of their minds moving forward.
According to Shah, Horizon Worlds will be "a multiyear journey, and we're going to keep making what we build better."
We'll just have to see.
Want to read this in Spanish?
Spanish Version >>