Netflix May Support Ads To Recuperate Viewership Losses
1 min 08 sec read
April 21, 2022
Netflix is about to take the "chill" out of its streaming services.
The company is tired of people sharing their passwords, and they're considering an
ad-supported pricing tier after losing roughly 200,000 subscribers
in the first quarter of 2022.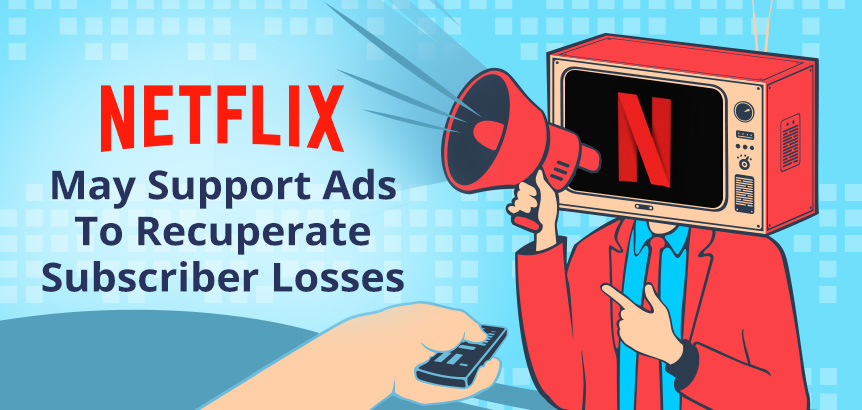 Netflix was one of those companies that didn't budge like Hulu, HBO Max, and all the other streaming platforms that allow advertisers to plug themselves in between shows or movies.
But ever since they pulled the plug on their services in Russia and lost around 700,000 accounts, things started to look bleak in terms of viewership.
Netflix recently cracked down on password sharing in some Latin American countries, and the company plans to roll out other ways to stop the sharing of Netflix accounts globally.
Reed Hastings is the CEO of Netflix, and he said that there are an estimated 100 million viewers who use the service for free.
Hastings knows that they may not be able to stop password sharing from happening. But by introducing an ad-supported pricing tier, they could recuperate their losses by making their services cheaper and more accessible.
The CEO said, "I'm a bigger fan of consumer choice, and allowing consumers who would like to have a lower price and are advertising tolerant to get what they want makes a lot of sense."
Sounds like great news for advertisers.
You'll have a chance to plug your ad in front of an audience and run contextual ad campaigns.
Who knows when Netflix will start introducing ad-supported plans. But what we do know is that advertisers are excited about the opportunity to match their promos with the content that people want to watch since they don't mind seeing them in between streams.
Want to read this in Spanish?
Spanish Version >>