PayPal May Acquire Pinterest for $45 Billion
1 min 15 sec read
October 21, 2021
Article Update: As of 10/25/21, PayPal said it is not pursuing an acquisition of Pinterest at this time, according to an update on its website.
Ah, Pinterest. Our go-to destination for wedding inspiration, recipe recommendations, and DIY projects is about to cash in big.
PayPal, the digital payment giant, is in early-stage talks to acquire Pinterest.
According to The Morning Brew, "The deal would likely value Pinterest at $45 billion, and shares jumped roughly 13%" as of October 19.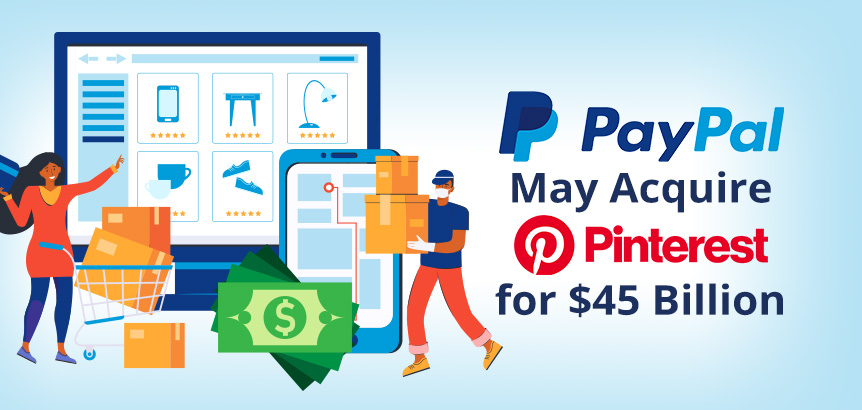 This is HUGE. If the deal goes through, The New York Times says
"it would be the largest in the consumer internet industry over the past decade
, topping Microsoft's $26 billion purchase of LinkedIn in 2016 and Salesforce's $27.7 billion acquisition of Slack last year."
Why is PayPal interested in Pinterest? It actually makes a lot of sense. PayPal has been looking at diving deeper into the ecommerce space and has been spending a pretty penny on other ecommerce-focused concepts. Like in 2019 when they purchased Honey for $4 billion, a browser extension that automatically applies online coupons on ecommerce websites as you shop.
Pinterest, which was made famous for its digital pinboard concept, enables ecommerce capabilities within its app and allows creators to make their pins shoppable. And The Morning Brew says they are looking to push their ecommerce feature more "aggressively to get more people to shop on its site with initiatives like a $20 million investment into its 'Creator Rewards' program." So essentially, the deal between PayPal and Pinterest is a perfect match.
Apparently, PayPal has big things planned as it relates to expanding its services outside of just digital payments. According to Dan Schulman, the company's chief executive, PayPal has its sights set on becoming a "super app" like similar apps in Asia that house multiple services and functions all in one place such as China's Alipay or WeChat app.
So it sounds like PayPal might have some other exciting and surprising acquisitions down the line. We'll just have to wait and see!
Want to read this in Spanish?
Spanish Version >>