Reddit Redesigns Feed With New Discover Tab
1 min 23 sec read
February 25, 2022
Reddit is redesigning its app with its new
Discover tab to push the app into the modern social media era
.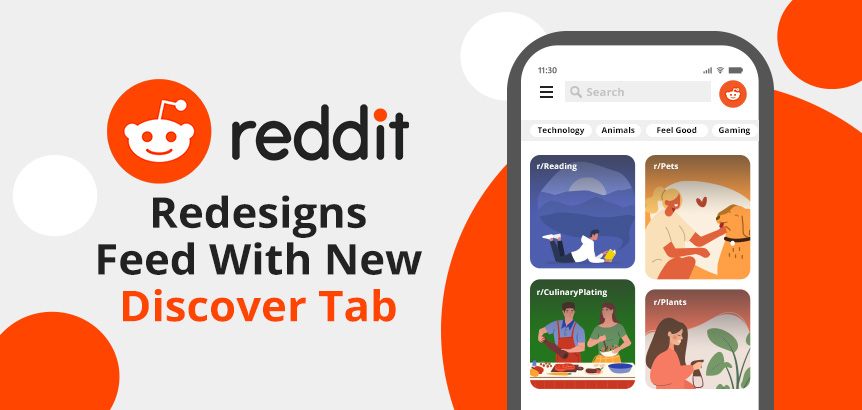 If you're a Redditor just like the 3MDD writer who's writing this piece, then you'll be able to see the new feature on the iOS and Android versions of the app. Here's what you can do and see with Reddit's Discover tab.
The new feature lets you curate pictures, GIFs, and videos in a scrollable grid that sort of looks like Pinterest boards but works like Instagram's explore page.
The Discover tab will help you find new content you may be interested in. It will replace the Communities and Subscriptions tabs, and you can identify the Discover tab because a compass icon will represent it.
However, if you're a subscriber to particular Reddit communities, then you can still access them by swiping in a drawer from the left.
From the right of your profile picture, you'll also see a new slide-over option next to the right of it where you can change your online status, look at your posts, and more.
So why the redesign?
Jason Costa, Reddit's Director of Product for Community and Content, said, "I personally think users are going to discover and join more communities as a result of this. And I think the old and new Redditors alike are gonna find really interesting and compelling content that resonates with them."
Reddit traditionally showcases its content with an emphasis on text-based posts. But Costa believes that this change will enable users to discover great video and other multimedia content in specific communities.
He said the Discover tab would feel like a replacement for r/all, but that's not the case.
The thread will still have its own section, and they will coexist. The Discover tab is a curated feed for content that you might be interested in versus seeing everything in the r/all subreddit.
Next time you open your Reddit app, don't be surprised when it looks a little different but familiar from what you would normally see on other social media platforms.
Want to read this in Spanish?
Spanish Version >>