Russia Banned Social Media so People Are Using VPNs To Evade Ban
1 min 22 sec read
March 15, 2022
Earlier this month, Russia shut down their independent news stations, blocked western news media outlets (BBC, Radio Free Europe, etc.), and the only news stations are the ones backed by the Kremlin to push out propaganda.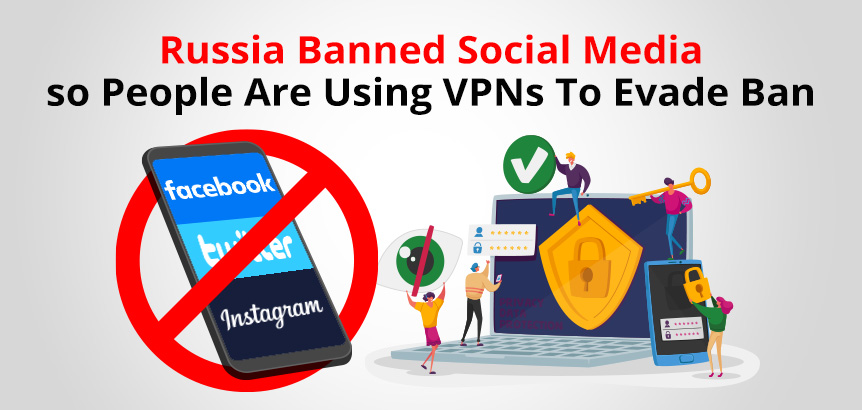 Then, social media took a censorship hit when Russia blocked all major social media platforms. So to combat the tightening grip that the Russian government has on its citizens,
Russians' demand for VPNs (Virtual Private Networks) has skyrocketed
.
Russia blocked Twitter and Meta, which include Facebook and Instagram. Instagram was one of the last platforms to get blocked from the country.
The Russian government even told people to save their content off of Instagram. People were mortified, especially Russian influencers and businesses who use social media as a source of income.
Once Instagram went down, a surge in demand for VPNs was underway.
If you don't know, a VPN allows you to hide your data, where you are located, and what device you're using while browsing the web.
A VPN won't show that you're an internet user in Russia, and you can surf the web unrestrictedly.
Now, the Russian government wasn't born yesterday. They blocked several providers of VPNs last year, but not all of them.
According to an internet monitoring firm, Top10VPN, the average demand in mid-February for a VPN in Russia spiked up to 2,088% of users trying to obscure their location.
But VPN usage in the country was already on the rise in 2021. Russian and Ukrainian websites had been hit with cyberattacks and blocked by the Russian government.
Top10VPN claimed that Russia's central registry of blocked websites had over 6,000 entries in their database. They restricted 203 news sites and 97 foreign exchange and crypto sites out of those entries.
Russia is trying to control the flow of information and oppress foreign social media platforms by slowing down how much traffic they receive after banning Twitter, Facebook, and Instagram.
So in retaliation, there has been a spike in cyberattacks against Russian IT systems and the government infrastructure since February 24th.
Want to read this in Spanish?
Spanish Version >>