Snapchat Adds Bitmoji Direct Message Reactions and Emoji Polls
0 min 59 sec read
January 12, 2022
Oh, snap!
Guess who's back with more new features.
Snapchat added emoji polls, Bitmoji reactions to DMs
, and two more features we'll be talking about in today's 3MDD.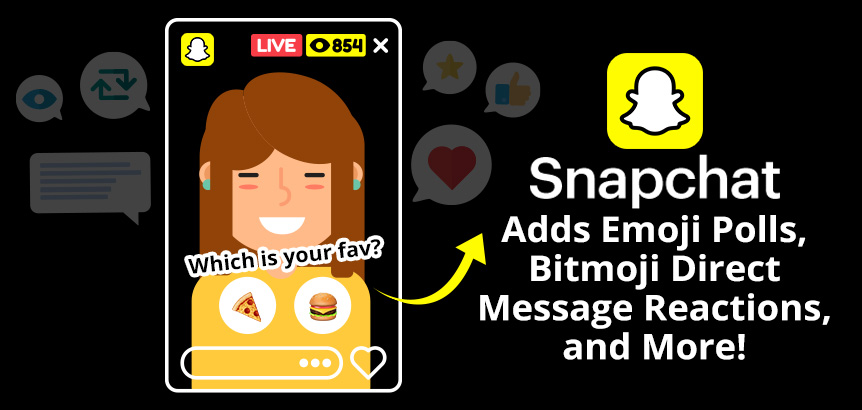 Let's start with the emoji poll. They can be added to both Snaps and Stories, so you can survey your friends on what their thoughts are when you ask them a question, and your friends will answer by selecting an emoji.
You can find this option to survey your friends in the Sticker folder.
Moving on, the Bitmoji Reaction feature allows you to choose from seven personalized Bitmojis of yourself and are used to react to messages. It's pretty self-explanatory, so let's keep going.
Another thing Snapchat has added is the Chat Reply feature. It allows you to reply to individual messages in group chats. All you have to do is hold down on a message to start a thread with that person.
Finally, Snapchat has revamped its video and audio interface.
They've made it easier to add Lenses to make crazy face filters and easily add AR filters onto yourself. Like you can turn yourself into a Sims character if you really wanted to imagine what life would be like in the metaverse.
Bonus time! Snapchat now lets you preview who's in a group call before joining in case you're about hop on a call with someone you don't really want to be in with.
And that's a wrap of Snapchat's latest features.
Want to read this in Spanish?
Spanish Version >>