Snapchat Takes Trying Virtual Clothes On to the Next Level
1 min 43 sec read
November 09, 2021
"Oh, snap!"
That's what you might be saying to yourself as you try on virtual clothing since
Snapchat continues to advance their AR Try-On tools, pointing to the next stage of online shopping
. Check out the video in the Tweet below to see Snap's AR Try-On tool in action during ComplexCon.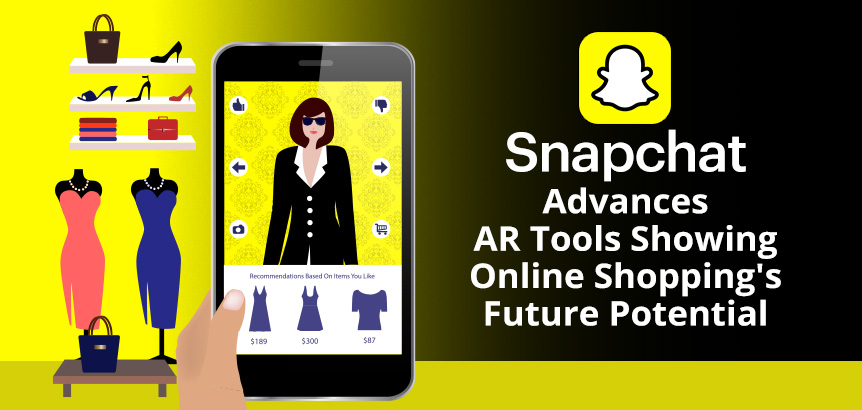 To be honest, the digital overlay of the man's hoodie looks chunky and misaligned. It's not really in proportion to his body, but it's still cool body mapping technology in the works. Snapchat could be on to something and reshape how we shop if they upgrade this tech even further.
They plan on advancing their body mapping tech, so everything looks just right and will allow you to customize clothing sizes, styles, and more. Snapchat's end goal is to streamline in-app purchases, and it could work if done right.
The company's AR Try-On tool already lets you virtually wear jewelry, watches, shoes, make-up, glasses, purses, and other outfits or accessories. Snapchat even enables you to run ad campaigns with this capability, which could help increase your conversions of products sold.
#ComplexCon drops are now in AR. Shop exclusive items from home with this Gift Shop Lens, just...

📱 Open your Snapchat
🤳 Scan the Snap code
✅ Choose your apparel or accessory
👕 Try-on virtually
🔥 Cop the drop

Try it athttps://t.co/89yDJkPk4P pic.twitter.com/CMztpyfUMG

— Snapchat (@Snapchat) November 6, 2021
Snapchat is trying to get ahead of Facebook and Apple, which are two competitors who plan on developing virtual product options with in-app purchase systems as well. Snapchat bought FitAnalytics to use tools that help collect data on what users like for more accurate product matches to have an edge over their competition.
But will the trend of trying on virtual clothes stick?
We're shopping back in stores again, so that may slow ecommerce sales a bit. But that isn't stopping social networks from making in-app purchases easier using various tactics and platform features to keep sales afloat.
There's a current shift in how young consumers are shopping these days. They're discovering trendy new products on social media, seeing exclusive deals, they can shop during a live stream, or use AR tools to make it easy to try stuff on virtually and buy it on the spot.
The future of how we shop may look dramatically different, especially with the idea of the metaverse added to the mix. So if you're an ecommerce brand, there could be lucrative opportunities to launch creative offline and online marketing strategies as the way we shop blends realities years from now.
Want to read this in Spanish?
Spanish Version >>