Social Media Companies Double Down on Mixed-Reality Tech
2 min 40 sec read
August 30, 2021
Is this the real life? Is this just fantasy?
The opening lines to Queen's legendary "Bohemian Rhapsody" are stuck in our heads as we talk about what's new in augmented and virtual reality technologies.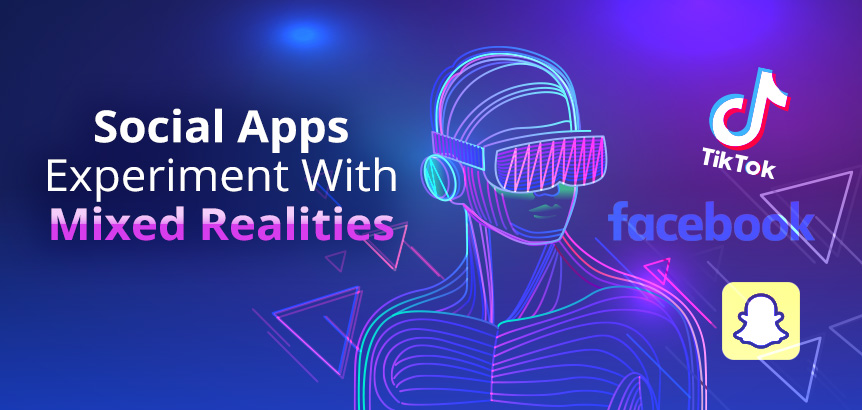 Facebook, Snapchat and TikTok are all working on incorporating AR tech into their apps—with some of them dabbling in VR as well. We're breaking down the latest on what they have planned, so let's get started!
Snapchat Launches Scan Feature
Next time you see a cute dog on the street, don't worry about making small talk with the owner to find out what kind of pupper it is. That's cause
Snapchat has an AR Scan feature
that can detect and identify dog breeds and other things just by pointing your camera toward them. 🤯
Before you go around your house trying to scan all your random tchotchkes, Snap's Scan feature only works on dog breeds, plants, wine bottles, cars, food labels, and clothes.
Snap says that the feature will get better with time, becoming more robust in the categories of objects it can identify accurately.
Scan is not Snap's first go-around with AR tech. They've been working on AR Spectacles for a while now,
releasing the fourth generation in May.
It's currently unavailable to consumers, but we could see how these lenses might play a major role in Scan's ability for real-world uses.
Facebook's Playing With AR and VR Tech
Facebook is playing in both the VR and AR landscapes. Just last week (Aug 23rd), they announced
Horizon Workrooms, a virtual conference room.
Users can create a customizable avatar and host virtual meetings while wearing a VR headset.
The conference rooms mimic real-life—complete with whiteboards that people can write and draw on.
Mark Zuckerberg predicts this innovation will one day be a part of
the "metaverse,"
a shared space where the virtual and physical realities meet and people can communicate with AR/VR devices.
Hopefully, Zuckerberg can come out with lighter headgear by the time that happens so we don't have to feel like Boba Fett during our 9-5, unless you're into that kinda thing. 🤷‍♀️
Similar to Snap's Spectacles, Facebook is also developing AR glasses called Project Aria. It was launched last September,
and they recently released the user manual.
The glasses aren't available yet, but the manual is still pretty cool to check out.
According to The Verge, "the device exists to help Facebook in its quest to create a computer that sees and understands the world." Facebook researchers will test them out in public and on their campuses for anonymous data collection. They come equipped with camera sensors, a proximity sensory and more.
These frames aren't available to us average joes 😒, but you'll still be able to get your hands on a sweet pair of techy shades.
Facebook is partnering with Ray-Ban on launching "smart glasses."
The frames won't augment your reality, but they'll still have you styling and will likely feature some sort of tech component. We just don't know what it is yet, so stay tuned!
TikTok Launches AR Effect Studio
Getting in on the AR fun,
TikTok has launched the TikTok Effect Studio
that's currently in private beta testing. The new "studio" gives developers a creative outlet to build AR effects for the main TikTok app.
Effect Studio is still in the very early stages of testing and experimentation in select markets. Do you think you've got what it takes to develop an AR effect? If so, the company launched the "Effect House" website, where developers like you could sign up for
early access
and apply.
The goal is to build AR experiences and creative effects that enhance the app and can be used for personal or business accounts. The company hasn't shared specifics on TikTok Effect Studio, but we're sure that something exciting is in store.
We'd love to hear your thoughts on the evolution of AR and VR. What do you hope to see next? Let us know on our socials. See you in the comments. 😎