Social Media Companies Make Updates to Their Platforms Amid Ukraine-Russia Conflict
1 min 34 sec read
February 28, 2022
As you may have heard, the Ukraine-Russia conflict has pressured governments to place sanctions on Russia.
And while troops on both ends are fighting in the real world, there's also action being taken by social media platforms and the internet in general.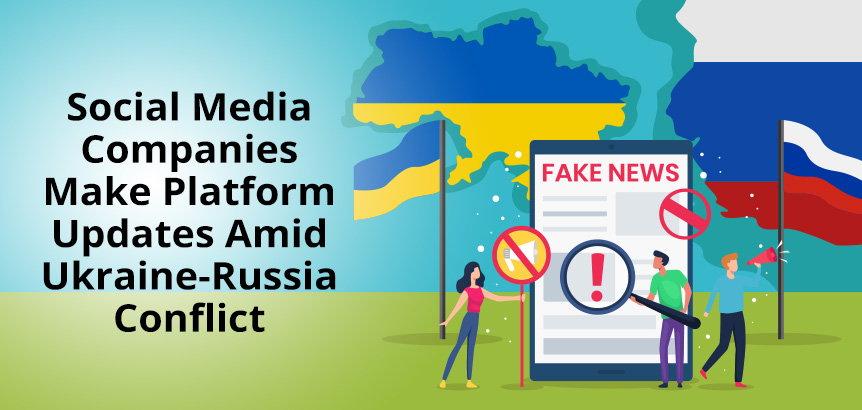 Meta took action on its
Facebook platform and removed Russian misinformation networks
that pushed fake news about the war in Ukraine.
The company found around 40 accounts, pages, and groups on Facebook and Instagram that were trying to run influence operations.
People in both Russia and Ukraine operated these propaganda networks. They created profiles using AI-generated headshots and fake job titles to create accounts on YouTube, Telegram, and other platforms as well.
Meta stated that these groups had people who owned misinformation websites to spread claims that the West is betraying Ukraine or pushing the agenda that Ukraine is a failed state. They even spread fake news that Ukrainian border guards welcomed Russian troops with open arms.
Twitter is also busy removing misinformation networks on its platform.
They banned more than a dozen accounts that were linked to a propaganda site named "Ukraine Today" because they violated their manipulation and spam policy.
A spokesperson for Twitter said, "Our investigation is ongoing; however, our initial findings indicate that the accounts and links originated in Russia and were attempting to disrupt the public conversation around the ongoing conflict in Ukraine."
Facebook, Instagram, Twitter and Google have placed their own sanctions on their ad networks.
Meta has banned Russian state media from running ads anywhere in the world. Twitter has temporarily paused ads in Russia and Ukraine.
Google updated its Legal Requirements policy and has added Donetsk People's Republic (DNR) and Luhansk People's Republic (LNR) to the list of embargoed countries/territories to comply with the United States Treasury Department's Office of Foreign Assets Control (OFAC).
Google even temporarily deactivated some of its live traffic features in Google Maps for Ukrainian users' safety. The location data to show traffic delays could be used to track the whereabouts of military operations.
Now Russia is threatening to restrict certain apps like Facebook and Twitter, for example, and possibly take them offline if they don't stop censoring their "news."
So both Russia and Big Tech are at a standstill.
But more important than that, is we hope more and more peace talks can bring the tensions down between the two countries.
Want to read this in Spanish?
Spanish Version >>